September 17, 2012
Press Release: Carnegie Mellon Alumni Awarded Conducting Prizes
Contacts: Dana Casto / Schoo of Music / 412-268-4921 / dcasto@cmu.edu
Pam Wigley / College of Fine Arts / 412-268-1047 / pwigley@andrew.cmu.edu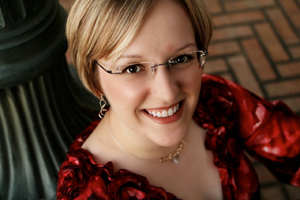 PITTSBURGH—Two alumni of Carnegie Mellon University's School of Music, Maria Sensi-Sellner (right) and Chris Fecteau (below), have received the American Prize in Conducting for their work on opera productions in Pittsburgh and New York. The American Prize, a nonprofit award recognizing excellence in conducting, is presented in several divisions, celebrating the achievements of professional, university and youth orchestras.
Sellner, who took top prize in the university/college division for her work with the Carnegie Mellon Opera in its 2011 production of Puccini's "Suor Angelica," earned several degrees at CMU in mechanical engineering and music. She received her bachelor's degree in music in 2002, her master's in music composition in 2007 and her master's in conducting in 2009, studying under faculty members Nancy Galbraith and Robert Page.
Hailed as a rising star in the conducting world, Sellner has conducted productions for the Boston Opera Collaborative and Hubbard Hall Opera Theater in New York, among others. She also was the assistant conductor for Opera Carolina in 2010, and conducted in the Oregon Bach Festival Masterclass with Helmuth Rilling in 2008 and 2009. She made her conducting debut with the Akron Symphony in February 2012 and is currently director of the Akron Symphony Chorus and assistant conductor of the Mendelssohn Choir of Pittsburgh. She was music director of Carnegie Mellon's All University Orchestra for 10 years.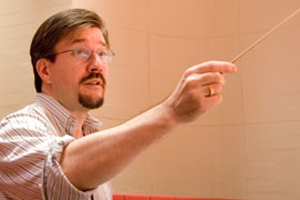 Fecteau, an opera director and vocal coach, was awarded an American Prize in the community division for his work as the artistic director of the dell'Arte Opera Ensemble, a company he founded in 2000. Based in Manhattan, the dell'Arte connects aspiring young singers with modern audiences in simple, highly focused operatic performances.
In addition, Fecteau, who earned his bachelor's degree at CMU in 1990, is active as a vocal coach, pianist, conductor and arranger in New York City. As a vocal coach, he has prepared singers for engagements at The Metropolitan Opera, New York City Opera, Boston Lyric Opera and Florida Grand Opera. Fecteau has performed with the great baritone Sherrill Milnes and was a featured recitalist on the New York Philharmonic's "Salon Series." He is particularly interested in exploring the intersections between opera, orchestral song and chamber music.
###