September 14, 2012
Press Release: Cameron Tonkinwise Joins Carnegie Mellon School of Design as Director of Design Studies
Contact: Pam Wigley / 412-268-1047 / pwigley@andrew.cmu.edu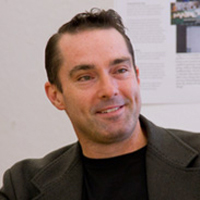 PITTSBURGH—Cameron Tonkinwise has joined the full-time faculty of Carnegie Mellon University's School of Design as associate professor, director of design studies and chair of the school's Doctoral Studies Committee.
Formerly the chair of design thinking and sustainability for the School of Design Strategies at Parsons The New School for Design in New York City, Tonkinwise was responsible for developing offerings in the areas of strategy, sustainability and service design. He also was the co-chair of the Tishman Environment Design Center, managing the New School's university-wide degree programs in environmental studies, and was a founding member of the Parsons DESIS Lab (Design for Social Innovation and Sustainability).
Tonkinwise's primary area of research is "dematerialization design," which attempts to improve societal sustainability by lowering its materials intensity. Tonkinwise also has been active in discussions about the nature of practice and artifact-based design research.
"Cameron's research and experience will make him a vital contributor to the school's mission of providing a world-class design education that prepares students to become catalysts for innovation and social change," said Terry Irwin, head of the School of Design. "We look forward to him leading conversations in designing the next iteration of our Ph.D. program, as well as helping to develop a new design studies curriculum that reflects our new mission and vision."
Tonkinwise said he was excited for the opportunity to join the Carnegie Mellon School of Design and lead "the next wave of transformation toward more socially responsive forms of designing."
Originally from Australia, Tonkinwise obtained his doctoral degree in continental philosophy at the University of Sydney. He was formerly the director of design studies at the University of Technology, Sydney, and has, for more than a decade, published and taught on product service systems design and collaborative consumption - two areas of design that focus on using existing resources to create new products with low environmental impact.
###