September 13, 2012
Media Advisory: The Honorable Tom Ridge To Discuss the Presidential Election Season at Carnegie Mellon University
Contact:
Shilo Rea / 412-268-6094 /
shilo@cmu.edu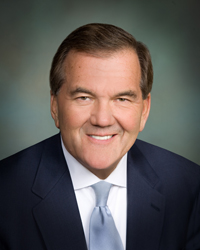 Event:
As Election Day nears, voters will be faced with an increasing amount of political rhetoric from the two presidential campaigns. The Honorable Tom Ridge, former governor of Pennsylvania (R), will survey the political landscape and explore the primary issues of this campaign season and America's future in a talk titled "Political Leadership in the Presidential Election Season" at Carnegie Mellon University.
"In the midst of the presidential race, it is an honor to have a former governor and the first head of Homeland Security as our guest to give us his reflections on past presidential races as well as his thoughts on the state of American politics," said
Kiron Skinner,
associate professor of social and decision sciences within the Dietrich College, director of the university's
Center for International Relations and Politics
(CIRP) and the university's adviser on national security policy.
Ridge, a twice-elected governor serving from 1995-2001, became the first assistant to the president for Homeland Security following the tragic events of Sept. 11, 2001. In January 2003, he became the first secretary of the U.S. Department of Homeland Security (DHS). During his DHS tenure, Ridge worked with more than 180,000 employees from a combined 22 agencies to create an agency that facilitated the flow of people and goods, protected critical infrastructure, integrated new technology and improved sharing worldwide.
A native of Erie, Pa., Ridge is currently president and CEO of Ridge Global, an international security and risk management advisory firm headquartered in Washington, D.C.
This event is sponsored by CMU's Center for International Relations and Politics and the Pre-Law Program.
When:
4:30 - 5:45 p.m., Thursday, Sept. 27 
Where:
Kresge Theater, Carnegie Mellon College of Fine Arts
###