September 10, 2012
Press Release: Carnegie Mellon School of Art Fall Lecture Series Features Artistic Stars Across Disciplines
Contacts:  Lauren Goshinski / School of Art / 412-268-1533 / laurengo@andrew.cmu.edu                       
Pam Wigley / College of Fine Arts / 412-268-1047 / pwigley@andrew.cmu.edu

PITTSBURGH—Internationally acclaimed artists and writers whose work and research span sculpture, installation, computation, film and video, photography and painting are featured in the Fall 2012 Lecture Series at Carnegie Mellon University's School of Art. The series is free and open to the public. Lectures take place at 5 p.m. Tuesdays in the Kresge Theater in the College of Fine Arts Building. The speakers and their topics are listed below. 
  
Sept. 11, Camille Utterback: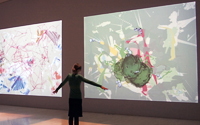 An internationally acclaimed artist and The School of Art's honorary Kraus Visiting Professor, Utterback will be living and teaching in Pittsburgh for the fall semester. Her interactive installations and reactive sculptures explore the possibilities of linking computational systems to human movement, where participants find themselves in a dynamic process of kinesthetic discovery and play. An extensive exhibition history includes more than 50 shows on four continents and awards such as the MacArthur Foundation Fellowship, Transmediale International Media Art Festival Award, Rockefeller Foundation New Media Fellowship and a Whitney Museum commission for its ArtPort website.  
 
Sept. 18, Nicholas Van Woert: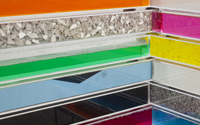 Interested in destruction as a form of alchemy and how it has been used throughout history as a means to regain a sense of identity, Van Woert's multimedia work references the 16th century iconoclasm of Bildersturm in Europe, exploring how groups from the Luddites to EarthFirst developed relationships to ordinary objects and materials that drastically changed their original meaning. By slightly altering the context of a material, Van Woert is able to turn something typically associated with convenience into a catastrophe.

Sept. 25, Julie Heffernan: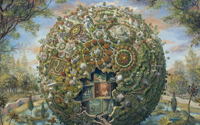 Heffernan creates open narrative paintings using a process called "image streaming." Her work explores the psychology of "myriad selves" that accumulate over time; hence, the titles Self-Portrait as Wreck and Self-Portrait as Random Perfect Being. She looks for forms and structures that contain complexity — in buildings with many cubicles, or trees with nesting boughs — to function as spaces of the psyche.

Oct. 23, Graham Harman: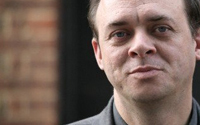 Co-presented by CMU's Center for the Arts in Society, Harman is professor of philosophy and associate provost for Research Administration at the American University in Cairo. His research and publications explore the development of what he calls an "object-oriented philosophy" calling for a new metaphysics of things that emphasizes the autonomous existence of objects.

Oct. 30, Charles Atlas: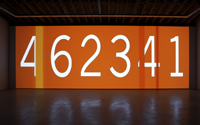 A filmmaker and video artist since the 1970s, Atlas has created pioneering media/dance works, multi-channel video installations, feature-length documentaries, video art works for television and live electronic performances. Recent projects include a live performance/installation In Residence at the 2012 Whitney Biennial and "Ocean," a film of Merce Cunningham's epic dance that premiered at the Walker Art Center. He is the recipient of a Guggenheim Fellowship, three "Bessie" (New York Dance and Performance) Awards and the 2006 Foundation for Contemporary Art's Biennial John Cage Award.

Nov. 6, Moyra Davey: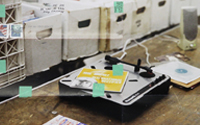 An artist and writer, Davey has been making photographs since the late 1970s and more recently has produced three narrative videos. The most recent, "Les Goddesses," questions validity of storytelling—specifically telling one's own story — and the ambivalence surrounding this drive. The vicissitudes of photography, as practiced by the artist over the last 30 years, becomes a central theme of "Les Goddesses."

Nov. 13, Kimsooja: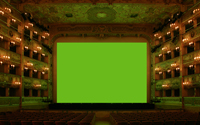 An internationally acclaimed, Korean-born, multimedia artist,  Kimsooja's work combines performance, video, and installation, addressing issues of the displaced self. Through acts of immobility, she inverts the notion of the artist as the predominant actor and turns the focus on her audience to question their existence and the major challenges they are facing in this era.
For more information or to view the season schedule, visit www.cmu.edu/art/lectures or contact Lauren Goshinski in the School of Art at 412-268-2409 or laurengo@andrew.cmu.edu.
###