October 08, 2012
Press Release: Carnegie Mellon Welcomes Writer/Director and Performance Artist For Discussion on Gender Representation in Society
Transgender Couple To Give Oct. 18 Lecture About Gender, Sexuality Perceptions
Contact: Pam Wigley / 412-268-1047 / pwigley@andrew.cmu.edu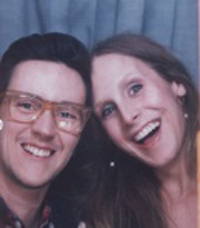 PITTSBURGH—Writer/Director Rhys Ernst and performance artist Zachary Drucker, a Los Angeles-based couple that addresses trans-feminine and trans-masculine experiences, respectively, will visit Carnegie Mellon University's Porter Hall 100 (Gregg Hall) at 4:30 p.m. Thursday, Oct. 18, to present "A Perfect X: Intersecting Transgender Perspectives in Film, Video and Performance."
Ernst and Drucker will discuss the creative work they do separately and together, as well as how gender and sexuality figures into their work and lives. The presentation, sponsored by Carnegie Mellon and its Center for Arts in Society, is free and open to the public.
The couple will present recent films and projects, including their new experimental film collaboration "She Gone Rogue," which premiered this year at the Hammer Museum's first Los Angeles Biennial.  Ernst also will discuss his film, "The Thing," which premiered during the 2012 Sundance Film Festival. According to his biography, Ernst positions his filmmaking in a "New Trans Cinema" that complicates gender representation in narrative cinema and places queer and transgendered characters within larger narratives. In addition to Sundance, he has screened work at Oberhausen, Chicago International Film Festival, Chicago MOCA, Brooklyn Academy of Music, REDCAT, LACE and Outfest.
Drucker is a multimedia artist working in performance, film/video, photography and spoken language. She has exhibited her work nationally and internationally at locations including MOMA PS1, Deitch Projects, Leo Koenig Projekte and Invisible Exports in New York; Luis De Jesus in Los Angeles; Moscow's International Biennale For Young Art; and Les Recontres Internationales Paris/Berlin/ Madrid.
"It's radical to most people that we're such a normal couple," said Ernst in a May 2012 issue of OUT magazine. He met Drucker three years ago in the backyard of a mansion in Los Angeles, the city where they now share an apartment. At the time, both were beginning a period of life-altering transition — Drucker from male to female, Ernst from female to male. The process itself is not something on which the couple places a lot of focus. To do so would negate their philosophy that "gender and sexuality are two distinctly separate things," Drucker said in a recent interview in The Huffington Post. Rather, their shared work and personal philosophy is to focus on fighting gender inequality.
"The struggle for gay rights is well established, but many people still don't know that transgender people exist," Drucker told the Post. "I see the struggle of trans people equally connected to gay rights as it is feminism, or even more so than gay rights, as it directly confronts gender inequality."
While at CMU, Drucker and Ernst also will tape an episode of "Trans-Q Television," a video variety show for the Web exploring gender and sexuality that's being developed by students in a class of the same name taught by Associate Professor of Art Suzie Silver. The class will produce approximately six 10 to 15 minute episodes for this project.
"Our goal in having speakers like Rhys and Zachary come to campus, as well as the goal of our TV show, is to help everyone move away from binary thinking regarding gender and sexuality, to expand possibilities for desire, to challenge conventional notions of beauty, and to have glorious, delightful fun at the same time," Silver said.
     
###