October 04, 2012
Obituary: Carnegie Mellon's Erwin R. Steinberg, Legendary English Professor Helped Found Technical Writing Field and Worked Tirelessly To Improve Education
Contact:
Shilo Rea / 412-268-6094 /
shilo@cmu.edu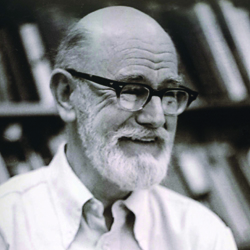 PITTSBURGH-Erwin R. Steinberg, professor of English and rhetoric, Emeritus at Carnegie Mellon University for 60 years who helped found the field of technical writing and held numerous administrative roles in which he worked to improve education, died Oct. 2 at age 91.
"In addition to being an outstanding scholar, a marvelous educator and a university leader, Erwin Steinberg was a visionary," said
John Lehoczky
, dean of the
Dietrich College of Humanities and Social Sciences
. "Erwin had the rare ability to see how seemingly different disciplines could be integrated and how education could evolve. His insights had an important impact on education and research not only at Carnegie Mellon University but also nationally.  There is no doubt that the current excellence of our English Department and our humanities programs owe much to Erwin's leadership, vision and dedication."
After joining Carnegie Tech's English Department in 1946, Steinberg taught composition, public speaking and literature courses. His research focused on early 20th century European novelists, specifically Irish writer James Joyce, Virginia Woolf, D.H. Lawrence and Franz Kafka as well as style, composition and the assessment of the teaching of writing. In 1958, Steinberg spearheaded the department's
Bachelor of Science Degree Program in Technical Writing and Editing
- one of the first of its kind - as a way to expand opportunities for students and bridge the university's technical focus with the department's expertise. His efforts pioneered the field of technical writing, and the program has since gained a renowned national reputation. Steinberg also helped to develop the overall curriculum for the English Department.
"Erwin's energy and strategic vision shaped the English Department in profound and significant ways," said
Chris Neuwirth
, head of the
Department of English
. "In addition to his initiative for a technical writing undergraduate major, he also helped forge our development, in the late 1970s, of interdisciplinary research connections with cognitive psychology - connections that helped to catapult our professional writing and rhetoric programs into national prominence. Lee Gregg, head of the Psychology Department at that time, was a key collaborator."
Steinberg was heavily involved in creating the
Master of Arts in Professional Writing
(MAPW) Program, the
Ph.D. in Rhetoric
, both founded in 1980, and all of the department's other graduate writing programs. He became dean of the former Margaret Morrison Carnegie College in 1960 and the first dean of the College of Humanities and Social Sciences, now the Dietrich College. He held the Thomas S. Baker Professorship of English and Interdisciplinary Studies from 1981-1993. Steinberg continued to teach style and literary and cultural studies courses until his retirement at the end of the spring 2007 semester.
"I first knew Erwin as the Dean of the recently established College of Humanities and Social Sciences and later as my senior colleague in the English Department. Throughout his long tenure here, he continued to make major scholarly contributions to his field - James Joyce and his era - and to share his learning with generations of students," said
Peggy Knapp
, professor of English.
His gifts for teaching and administration came together in 1991, when he was named Carnegie Mellon's first vice provost for education. In this role, it was Steinberg's mission to improve undergraduate education to match the university's increasingly strong graduate programs. During his five-year tenure as vice provost, freshmen application rates more than doubled; attrition between freshman and sophomore years decreased from 15.5 percent to 9.8 percent; the tutoring services offered doubled; more merit-based financial aid was available for students; and the Teaching Center became the
Eberly Teaching Center for Teaching Excellence
and increased its services.
Steinberg accomplished all of this while remaining a dedicated professor. "Erwin was the professor that students loved because he was so meticulous and demanding about student writing," said
David Kaufer
, professor of English. "His methods paid off. It's very common for our alumni to tell me that they live out the rest of their careers with Professor Steinberg encouraging them in their inner ear as they write and revise English prose."
Steinberg published numerous chapters in books and monographs and co-authored, edited and wrote several books, including "Communication in Business and Industry," "History of English," "Plain Languages: Principles and Practice" and "Approaches to Teaching Joyce's ULYSSES."
In addition to his academic career, Steinberg spent 40 years as a communications consultant for industrial firms. An early advocate of the "plain language" movement, Steinberg worked with managers and engineers from corporations such as Alcoa, Westinghouse and IBM to help improve organizational writing.
To recognize Steinberg's 60 years of distinguished service, the Erwin R. Steinberg Auditorium in Baker Hall A53 was dedicated in October 2006. At the same time, the Department of English established the Steinberg Scholarship Fund to honor his legacy.
"Erwin was, above all, a dedicated and inventive educator who put language and writing at the heart of every Carnegie Mellon student's education," said
Kristina Straub
, professor of English. "He set our current first-year writing program on its current path of making communication skills an integral part of the university's educational mission for all of its students, from engineers and scientists to artists and humanists."
Steinberg received his Ph.D. from New York University. He received his bachelor's degree from the State University of New York at Albany, which named him a Distinguished Alumnus in 1969. The State University of New York, where he received his master's degree, selected him as the 1971 Alumnus of the Year.
Steinberg is survived by his wife Beverly, two sons, Marc of North Hampton, Mass., and Alan of Pittsburgh, and grandson Jared.
The family is holding a private memorial service. Contributions may be made in Steinberg's name to the Family Hospice & Palliative Care, 50 Moffett Street, Pittsburgh, PA 15423.
###