October 02, 2012
Press Release: Carnegie Mellon's School of Drama Opens Season With British Comedy "The Rivals," Oct. 4-13
Guest Artist Annie Tyson Returns to CMU To Direct Performances
Contacts: Dennis Schebetta / 412-268-2068 / dschebet@andrew.cmu.edu   
Pam Wigley / 412-268-1047 / pwigley@andrew.cmu.edu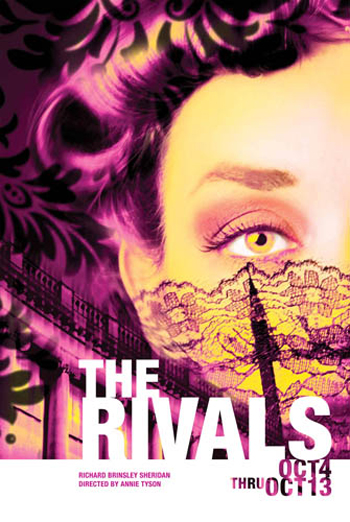 PITTSBURGH—Carnegie Mellon University School of Drama's Subscriber Series opens its 2012-13 season at 8 p.m., Thursday, Oct. 4, with a stylish, sexy and funny production of "The Rivals" by Richard Brinsley Sheridan.  Guest artist and renowned British director Annie Tyson will direct the performances, which will take place in the Purnell Center for the Arts on CMU's Pittsburgh campus through Saturday, Oct. 13.
This will be a return to Pittsburgh for Tyson, who five years ago taught master classes in restoration comedy to acting students at Carnegie Mellon's School of Drama.
"I am delighted to come to Carnegie Mellon University to direct one of my favorite plays," said Tyson, who performed in the production of "The Rivals" at the National Theatre of London in the 1980s and has taught classical acting at The Royal Academy of Dramatic Art and the Drama Centre in London. "It is almost a perfect play in that it has a real balance of witty high comedy with a slightly darker underbelly. Also, we're setting it in period Bath, so the costumes and setting will look gorgeous."
The play focuses on the complexities of the pursuit of love. A rich young woman, Miss Lydia Languish, insists on marrying a poor man. So what is the wealthy Captain Jack Absolute to do if he wants to win Lydia's heart? Led by the legendary theatrical invention, Mrs. Malaprop, this delightful comedy of manners is filled with outrageous characters and uproarious farcical devices.
Peter Cooke, head of the School of Drama, believes this witty and satirical comedy will be a tremendous kickoff to the season and will be followed by several other plays about the challenges of love in various forms in groundbreaking and Tony Award-winning plays.
"We're so happy to have Annie Tyson open our season, which we view as a wonderful slate of theatrical invention, revelation and, hopefully, ovations," Cooke said. "This season offers a window into what it is to be a creative artist in this amazing decade of change and innovation."
In addition to "The Rivals," this year's Subscriber Series features the Tony Award- and Pulitzer Prize-winning "Angels in America, Part One: Millennium Approaches" by Tony Kushner and directed by Professor Jed Allen Harris; "Spring Awakening" by Frank Wedekind with music and lyrics by Duncan Sheik and Steven Stater, and directed by Professor Tomé Cousin; a modern version of William Shakespeare's "Romeo & Juliet" directed by Professor Don Wadsworth; "Macbett" by Eugene Ionesco; and "As You Like It or Make it Hurt" adapted from Shakespeare by Jessica Mills.
The new season also includes a seven-play Directors Series and a New Works Series of six plays, which will be directed by students in The John Wells Directing Program, named for the legendary Hollywood producer and School of Drama alumnus John Wells (A'79).
For package options or to place a subscription order, call the box office at 412-268-2407 between noon and 5 p.m., Monday through Friday. Special discounts are available to all Carnegie Mellon alumni. All Subscriber Series performances are at 8 p.m., Tuesday through Friday, and 2 and 8 p.m. on Saturdays   in CMU's Purnell Center for the Arts. For more information about the School of Drama, visit www.drama.cmu.edu.
     
NOTE: Students in the Dramaturgy Program will host talkbacks with the audience, casts and crews following Tuesday evening performances, explaining the play's background and commenting on the research and development of the story line. The dramaturgs also are available to discuss the plays with classes, student groups and public organizations. Contact Michael Chemers, dramaturgy option coordinator, at chemers@andrew.cmu.edu or 412-268-2399 to schedule a session with a dramaturg.
     
###