October 02, 2012
News Brief: Carnegie Mellon Alumnus Lt. Col. Christopher Raible To Be Buried in Arlington National Cemetery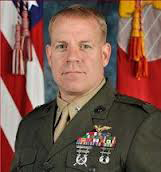 Carnegie Mellon University alumnus Lt. Col. Christopher "Otis" Raible (E'95) will be laid to rest with full military honors in Arlington National Cemetery in Washington, D.C., at 8:45 a.m., Wednesday, Oct. 3. The Carnegie Mellon flag will be flown at half-staff in his honor.  
The U.S. Marine Corps commanding officer was one of two Marines killed in September during an attack in Afghanistan. The squadron he commanded, known as "the Avengers," is the only Marine Harrier squadron in Afghanistan. He was 40.  
After graduating from CMU, Raible joined the Marines and earned his Naval Aviator designation in 1998. He was awarded the rank of Lieutenant Colonel in the summer of 2011 and was the recipient of many military honors, including a Meritorious Service Medal, 10 Strike Flight awards, and a Navy and Marine Corps Commendation Medal. He will receive the Purple Heart, a Bronze Star, Combat Action Ribbon and an Air Medal with Strike 15 Award.  
Raible's survivors include his wife, Donella Raible, who lives in Yuma, Ariz., and their three children, ages 11, 9 and 2.  
A public memorial tribute for Raible will take place at 1 p.m., Saturday, Oct. 13 in the Norwin High School auditorium, 251 McMahon Dr., North Huntingdon, Pa. Raible graduated from Norwin in 1990. The public is invited to attend.  
Read more about Raible.