October 23, 2012
News Brief: Carnegie Mellon Qatar Welcomes 104 Students; Record Number of Applications Received
Contact:
D. Murry Evans /  +974 4454 8490 /
dmevans@qatar.cmu.edu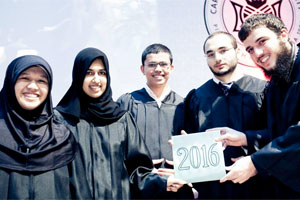 DOHA, QATAR-
Carnegie Mellon University in Qatar
welcomed an incoming class of 104 students for the 2012-2013 academic year, including 97 new freshman and seven transfer students. The freshmen class included 20 nationalities and 44 Qatari nationals - a record in university history. This year's incoming class brings the total number of undergraduates to 373.
"Carnegie Mellon's presence in the Middle East and around the world continues to grow and we were pleased to see such a high number of qualified students, especially among our Qatari applicants," said Jarrod Mock, director of admission for Carnegie Mellon Qatar.
Women carry a majority in the total undergraduate enrollment, comprising 56 percent, with men accounting for 44 percent. There are 21 students majoring in
biological sciences
, 189 students in
business administration
, 78 in
computer science
and 85 in
information systems
.
"Carnegie Mellon is on track to meet our overall goals for the enrollment for the Qatar campus. We are pleased to welcome our first freshman students into the new biological sciences program," said Ilker Baybars, dean of Carnegie Mellon University in Qatar.
The university received a record 821 applications for fall 2012, including almost 200 for the new biological sciences program.
In addition to Carnegie Mellon's full-time enrollment, 45 students from other Education City institutions are cross-registered to take classes at Carnegie Mellon. Maintaining its rigorous standard for academic excellence, Carnegie Mellon Qatar boasts a faculty to student ratio of 1:7.
"At Carnegie Mellon, we take advantage of our relatively small class sizes to offer world-class undergraduate programs that spark innovation, creativity and problem-solving, enabling students to make a positive impact on their nation. We look forward to seeing how our graduates shape Qatar's development into a knowledge-based economy," Mock said.
"We are now accepting applications for the 2013-2014 academic year. It's never too early to get started on the application process. I invite all secondary school students who are contemplating their future to stop by the Admission Office or visit our website to learn more about Carnegie Mellon and the application process," Mock added.
The application deadline for the 2013-2014 academic year is March 1, 2013. Learn more at
www.qatar.cmu.edu/admission
.
###