October 22, 2012
Press Release: Carnegie Mellon's Jon Peha Receives Prestigious Technical Publication Award
Engineering Professor Recognized for Innovative Work in Cognitive Networking
Contact: Chriss Swaney / 412-268-5776 / swaney@andrew.cmu.edu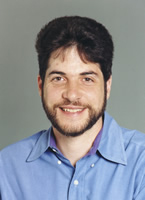 PITTSBURGH—Carnegie Mellon University's Jon Peha has won the 2011 Technical Publication Award from the Institute of Electrical and Electronics Engineers (IEEE) for decades of outstanding techno-economic analysis of cognitive networking trends.
"This is a wonderful honor for all the technical research and public policy analysis I have published over the years," said Peha, a professor in the departments of Engineering and Public Policy and Electrical and Computer Engineering. "It is extremely rewarding to be recognized by my peers."
For more than two decades, Peha's research has spanned technical and policy issues of computer and telecommunications networks. Some of those areas have included spectrum, broadband Internet, wireless networks, video and voice over IP, communications for emergency responders, universal service, secure Internet payment systems, e-commerce and network security. He also frequently consults for industry and government agencies worldwide.
"Professor Peha is a leading researcher in telecommunications policy, and we applaud this latest accolade for his long track record of innovative work," said Vijayakumar Bhagavatula, interim dean of CMU's top-ranked College of Engineering and a professor of electrical and computer engineering.
In addition to his outstanding research, Peha has served as the chief technologist for the Federal Communications Commission and as a technology policy adviser in the White House. In other government roles, Peha has addressed telecom and e-commerce issues for legislative staff in the U.S. Senate and House of Representatives, and helped launch and lead a U.S. government interagency program to assist developing countries with information infrastructure in industry.
Peha, former associate director of CMU's Center for Wireless and Broadband Networking, has served as chief technology officer of three high-tech startups and as a member of the technical staff at SRI International, AT&T Bell Labs and Microsoft. He is a fellow of the IEEE and a fellow of the American Association for the Advancement of Science (AAAS).
He received his bachelor's degree from Brown University and a Ph.D. in electrical engineering from Stanford University.
###
For more than two decades, Jon Peha, pictured above, has conducted research spanning technical and policy issues of computer and telecommunications networks.