October 01, 2012
Press Release: Carnegie Mellon Welcomes Robotics Industry Leaders to Pittsburgh for RoboBusiness 2012
CMU Will be Research Institution Host for the RoboBusiness Leadership Summit Oct. 22-24
Contact: Byron Spice / 412-268-9068 / bspice@cs.cmu.edu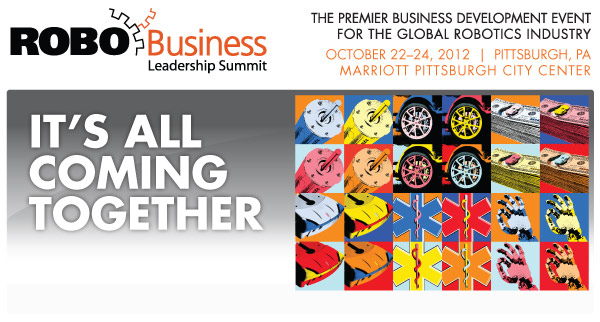 PITTSBURGH—Carnegie Mellon University and Robotics Trends Media Group announced today that Carnegie Mellon will be the research institution host for the RoboBusiness 2012 Leadership Summit. The international executive-level business development event for robotics technology innovators, influencers, developers and investors, will take place Oct. 22-24 at the Pittsburgh Marriott City Center (www.robobusiness.com).
Carnegie Mellon and the greater Pittsburgh area have arranged an array of local activities to complement the RoboBusiness Leadership Summit, including the induction ceremony for the Robot Hall of Fame, a public event slated for 6:30 p.m., Oct. 23 at the Carnegie Science Center. The Carnegie Mellon Robotics Institute also will host conference attendees at a campus open house.
Carnegie Mellon's Robotics Institute is the world's largest university-affiliated robotics research center, with internationally noted roboticists among its 420 faculty and staff members. The institute is a leader in autonomous navigation, field robotics, computer vision, legged locomotion and other enabling and advanced technologies. Attendees of RoboBusiness will enjoy more than 10 live technical demonstrations of the latest technology advancements in robotics at CMU.
In addition, Carnegie Mellon affiliated spinoffs and staff who will speak at RoboBusiness include Takeo Kanade and Jim "Oz" Osborn, directors and co-founders of the Quality of Life Technology Center, a National Science Foundation Engineering Research Center operated jointly by CMU and the University of Pittsburgh, and William "Red" Whittaker, director of the Field Robotics Center. Bossa Nova Robotics, a CMU spinoff co-founded by Robotics Institute alumnus Sarjoun Skaff, aims to put a robot in every home by building the leading personal robot for the 21st century.
Other organizations from the greater Pittsburgh area welcoming RoboBusiness attendees include Innovation Works and the Pittsburgh Technology Council. Innovation Works is the largest investor in seed-stage companies in the Pittsburgh region and plays a vital role in southwestern Pennsylvania's technology economy The Pittsburgh Technology Council has helped the region's technology companies succeed through a suite of proven products and services that help technology companies at all stages of growth, from emerging startups to becoming established heavy hitters in their respective marketplaces.
CMU, Innovation Works and the Pittsburgh Technology Council say a goal of the conference is to connect participants with new business opportunities.
For media inquiries, please contact Erin Rapacki at rbls12media@gmail.com.
For sponsorship information, contact Rich Erb at rerb@ehpub.com or 508-663-1500 x331.
For more information and to register to attend visit www.robobusiness.com.

###