October 16, 2012
News Brief: Carnegie Mellon Students Advance to International Genetically Engineered Machine Competition's World Championship Jamboree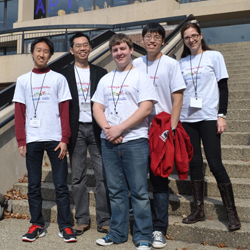 A team of undergraduate students from Carnegie Mellon University has been selected to advance to the International Genetically Engineered Machine (iGEM) Competition's World Championship Jamboree to be held Nov. 2-5 in Cambridge, Mass.
Using a kit of interchangeable biological parts and a fundamental knowledge of synthetic biology, the CMU students created a biosensor that can measure cellular activities. At the iGEM Americas East Regional Jamboree on Oct. 13-14, they were named one of four regional finalists from a field of 43 teams. They also were awarded a Gold Medal and a prize for the Best BioBrick Measurement Approach.
Read more about the team's participation in the iGEM Americas East Regional Jamboree:
http://www.cmu.edu/news/stories/archives/2012/october/oct12_syntheticbiology.html

Pictured above are (from left) Peter Wei, Cheemeng Tan, Eric Pederson, Yang Choo and Natasa Miskov-Zivanov.