October 11, 2012
Press Release: Carnegie Mellon University Relaunches Successful Breakthrough Products Book as Blueprint for Innovation
Professors Use Research To Understand Needs, Wants and Desires of Customers
Contacts: Chriss Swaney / Carnegie Mellon/ 412-268-5776 / swaney@andrew.cmu.edu
Megan Graue / FT Press, an imprint of Pearson / 317-428-3109 / Megan.graue@pearson.com
M.B. Reilly / University of Cincinnati / 513-556-1824 / reillyMB@ucmail.uc.edu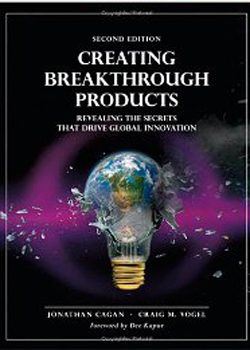 PITTSBURGH—Innovation moves at a rapid pace. Yet few companies know how to keep the process effective, efficient and repeatable. Jonathan Cagan and Craig M. Vogel, authors of "Creating Breakthrough Products," identify that innovation in the 21st century is spurred by the integration of technology with lifestyle desires. The result is integrated product-service ecosystems that connect activities across spectrums of use.
The happy interaction of technology and lifestyle plays out repeatedly throughout their book, which is designed to offer a roadmap for identifying the key factors associated with successful innovation.
"Great ideas can come from anyone, anywhere. Our book shows readers the importance of design and how the goal of companies should be to not only develop successful new products but sustain that innovation," said Cagan, a professor of mechanical engineering at Carnegie Mellon.
Their book presents insights and methods that break innovation into its fundamental components. Vogel, a professor of design at the University of Cincinnati, argues that "methods create clarity and allow for communication and vision that produces the emotional element to inspire people to do great things."
"Creating Breakthrough Products" is based on the notion that there is a critical need to explain how to navigate the "fuzzy front end" of product development. A second edition was released Sept. 30, 2012, and is published by FT Press, an imprint of Pearson Education.
The authors also showcase case studies of successful companies and their products and describe the importance of managing diverse workplace teams. They say innovation can happen anywhere by anyone if they gain insights and follow a rigorous process that identifies real needs and desires, and deliver products and services that make a difference in people's lives.
Consumers have seen a revolution in what they use and how they use it: from integrated financial systems to multi-faceted sensor technology that integrates into our lives. Whether a high-tech product or a meeting at a coffeehouse, everyone seeks ways to maximize the value they derive from the products and services they use.
"We feel these changes in everything we do, and that's why our research and case studies in 'Creating Breakthrough Products' are so essential for every business leader and company to emulate," Cagan said. "The best advice for anyone in business is to keep it focused on the customer. And the best way to do that is to find people's needs, wants and desires and deliver them in the products and services your company develops."

###