November 09, 2012
Press Release: Carnegie Mellon Architecture Students Win International Sustainable Design Competition
Contacts: Pam Wigley / 412-268-1047 / pwigley@andrew.cmu.edu  
Cora Wang / 412-209-5355 / kejiaw@andrew.cmu.edu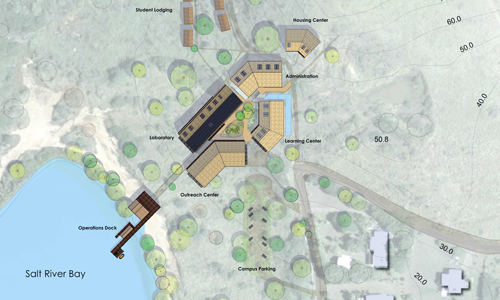 PITTSBURGH—A team of three Carnegie Mellon University School of Architecture students, Dan Addis, Eui Song "John" Kim and Jensen Ying, has won the International Sustainable Laboratory Student Design Competition for their design proposal for a Salt River Bay Marine Research and Education Center on the island of St. Croix in the U.S. Virgin Islands.
The competition, held by the International Institute for Sustainable Laboratories in partnership with the Joint Institute for Caribbean Marine Studies and in collaboration with the Association of Collegiate Schools of Architecture, aims to encourage architecture and engineering students from around the world to develop new and innovative thinking for the creation of energy-efficient and environmentally sustainable laboratories.
Of the 120 submitted projects, their work, titled "Modular Sustainability," stood out as one of the two winning designs because it "shows a well-documented and thorough sustainable systems analysis and demonstrates a thoughtful, integrated approach to the design process," the judges said. "The proposed laboratory systems, particularly the HVAC systems, are practical and site specific, while the design of the community space is creative and inviting."
Kim said he felt "pretty good" about the team's work, and Ying cited the true team effort, noting that each member took ownership of a different part of the project. They said their guiding principle in developing the project was to combine system integration with architectural design and a focus on sustainability.
"For me, sustainable design is more about letting the site define what your project is rather than imposing a preconceived idea that you may have for the site," Ying said.
"I feel most proud about the level we are able to achieve with the submitted sustainable system and the level of understanding we had that we were able to work out convincing, reliable solutions to the problems we had," Addis said.
"The competition provided a good opportunity to explore a complex building type on a demanding site and in a challenging climate, all while striving to reduce the impact on the environment and resources," said Gary P. Moshier, a CMU adjunct associate professor and the team's faculty sponsor. "The team did a great job of understanding the various building and site systems and allowing them to inform and shape the design solution. They also learned to successfully collaborate by bringing individual strengths and abilities to the project while managing the interpersonal issues that are present in any team."
Addis is a master's degree student of architecture-engineering-construction management, and Kim and Ying are both fifth-year architecture students. They received their award at Labs21 2012 Conference in San Jose, Calif., where they presented their design to the conference audience of more than 700 professionals.
          
     
###
Pictured above is the site plan of the students' winning project. The judges said the work stood out because it "shows a well-documented and thorough sustainable systems analysis and demonstrates a thoughtful, integrated approach to the design process."