November 20, 2012
News Brief: Wing Will Lead Microsoft Research International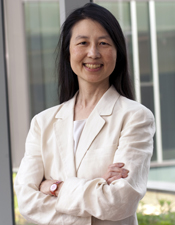 Jeannette Wing will step down as head of the Computer Science Department to join
Microsoft Research
in January. She will be vice president, head of Microsoft Research International, with responsibilities for research laboratories in Bangalore, India; Cambridge, UK; and Beijing, China.
A leading figure in computer science research, particularly in formal methods, security and privacy, Wing joined the Carnegie Mellon faculty in 1985 and served in several academic leadership positions before becoming head of CSD in 2004.  From 2007-2010, she served as Assistant Director of the Computer and Information Science and Engineering Directorate at the
National Science Foundation
, where she led the directorate that funds academic computer science research in the United States.
In a statement released by Microsoft, Chief Research Officer Rick Rashid called Wing "a leading light in the computer science research community," citing her contributions at CMU and NSF. 
In addition to her research, Wing has championed the concept of computational thinking, which draws on fundamental concepts of computer science to solve problems, design systems and understand human behavior, and advocated that it be incorporated broadly into educational programs. She launched a
Center for Computational Thinking
at Carnegie Mellon and established funding programs at the NSF to advance computational thinking.
"Jeannette has been an important contributor to computer science at CMU," said Randy Bryant, dean of the School of Computer Science. "Needless to say, we will miss Jeannette's energy and thoughtful leadership, but all of us wish her the best at Microsoft. I thank her for her many contributions to Carnegie Mellon."
Bryant said he will name an interim CSD head and will form a committee to identify Wing's successor. He expects a new department head to be in place this spring.