November 19, 2012
Press Release: Carnegie Mellon University School of Art Appoints Games Designer Paolo Pedercini as Tenure-Track Professor
Contacts: Lauren Goshinski / School of Art / 412-268-1533 / laurengo@andrew.cmu.edu
Pam Wigley / Media Relations / 412-889-6238 / pwigley@andrew.cmu.edu
 


PITTSBURGH-Internationally recognized artist and games designer Paolo Pedercini has accepted a full-time tenure-track faculty position with the School of Art at Carnegie Mellon University. A Fine Foundation Visiting Professor with the electronic and time-based media area since 2009, Pedercini's work bridges the art world and the most forward-looking fringes of the game industry and academia, according to Head of the School of Art John Carson. His appointment, Carson said, signals the deepening relationship in society today among art, computer science, activism and media literacy - and the new directions the combination of any and all may take.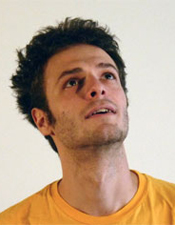 "What makes Paolo special is that his games pose difficult questions not only about the society in which we live, but also the very industry and medium of video games themselves," Carson continued. "His approach positions games as a form of art, as well as a vehicle for critical perspective. Academia, the gaming industry, and the art world all need practitioners, thinkers and activists like Paolo."

At 31, Pedercini has produced an impressive number of controversial Flash-based games that have been exhibited around the world and have gathered a large "non-art" following online. "Oligarchy," "McDonald's Videogame," "The Free Culture Game," "Unmanned" and "Phone Story," an iPhone/Android game about hidden social costs of smartphone manufacturing (banned from the Apple App Store), are just a few of his works that exemplify culture jamming using videogames as means of expression. Stimulating debate beyond art and gaming circles, "Unmanned" and "Phone Story" have drawn attention from The New York Times, Wired, El Pais, Haaretz, USA Today, The Guardian, CNN, Spiegel, NPR and a multitude of internet-based media.

Pedercini has contributed to books like "Net Works" (Routelege) and "Cultura e nuovi media: Cinique interrogativi de Lev Manovich" (Culture and New Media: Five Questions by Lev Manovich) and is a sought-after lecturer and judge for numerous international conferences devoted to games with social impact, such as the Independent Games Festival and Games for Change.

"Paolo made an intimidating medium approachable, providing a fresh perspective that helped me to navigate my interests in game art, video and animation," said Tara Helfer, a 2012 alumnus. "We got a real sense of collaboration in his classes; I could pursue my interests in animation and visual design while a partner implemented code. This method forced us to learn how to communicate across media, which is a skill I really came to value after school. Some of us still work together."

Carson also endorsed Pedercini's talent. "His broad technical expertise, combined with a wry humor and awareness of global economic, environmental, and political issues, sharpen the School of Art's critical perspective and curriculum with courses that blend video production, animation, code-generated art, performance and tactical media," Carson said.

###
Pictured above is Paolo Pedercini and screenshots from two of his video games.