November 15, 2012
Press Release: Carnegie Mellon School of Drama To Perform "Angels in America"
Pulitzer Prize and Tony Award-Winning Drama Confronts 1980s AIDS/HIV Epidemic
Contacts: Dennis Schebetta / 412-268-2068 / dschebetta@andrew.cmu.edu
Pam Wigley / 412-268-1047 / pwigley@andrew.cmu.edu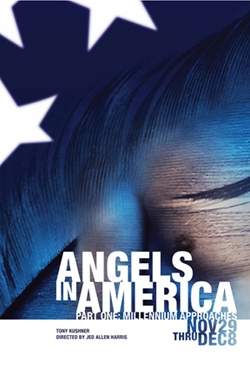 PITTSBURGH—The Carnegie Mellon University School of Drama will present "Angels in America: Millennium Approaches" from Nov. 29 through Dec. 8 in the Philip Chosky Theater of the Purnell Center for the Arts on the Pittsburgh campus. All shows begin at 8 p.m. with the exception of 2 p.m. matinees on Dec. 1 and Dec. 8.
Directed by Jed Allen Harris, "Millennium" is part one of two stories that focus on the HIV/AIDS epidemic in New York City during the 1980s. American playwright Tony Kushner won the 1993 Pulitzer Prize for Drama and the 1993 and 1994 Tony Award for Best Play for the work, which depicts the politics and social failures surrounding the disease and its emergence in the United States. Now 20 years after its debut, "Angels" still resonates today.
"The story transcends the political moment by using humor, the supernatural and heartbreaking realism to show how ordinary human beings wrestle with the universal themes of love, loss and responsibility," said Peter Cooke, professor and head of the School of Drama. "Many in our society today still confront HIV and AIDS with fear and bigotry, but the play shows us how compassion plays an integral part in the healing or grieving process."
Tickets may be purchased online at www.drama.cmu.edu, at the Box Office in the Purnell Center lobby or by phone at 412-268-2407. Visa and MasterCard are accepted.
###