May 08, 2012
News Brief: Pa. Governor Appoints Carnegie Mellon's Kiron Skinner to Advisory Commission on African American Affairs
Contact:
Shilo Rea / 412.268.6094 /
shilo@cmu.edu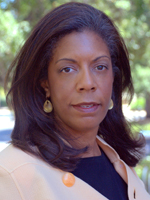 In recognition of Pennsylvania's more than 1.4 million African American citizens, Governor Tom Corbett has named distinguished community leaders to serve on the Governor's Advisory Commission on African American Affairs. Included on the 18-person advisory commission is Carnegie Mellon University's Kiron Skinner, associate professor of social and decision sciences and director of CMU's Center for International Relations and Politics.
"The history of African Americans in Pennsylvania reflects a diverse and unique blend of cultural, social and economic influences which have had and continue to have a beneficial impact on life in the commonwealth," Corbett said.
The commission advises and makes recommendations to the governor on policies, procedures, legislation, and regulations that affect the African American community. It works to articulate and address the unique needs and issues of concerns of the African American community.
Skinner is a renowned expert in international relations, U.S. foreign policy and political strategy. She serves on the Chief of Naval Operations (CNO) Executive Panel and is a member of the Council on Foreign Relations. From 2001-2007, she was a member of the U.S. Defense Department's Defense Policy Board as an adviser on the wars in Iraq and Afghanistan.
Additionally, Skinner is the coauthor, along with political scientists Serhiy Kudelia, Bruce Bueno de Mesquita and Condoleezza Rice, of
"The Strategy of Campaigning: Lessons from Ronald Reagan and Boris Yeltsin,"
which is now used in political science courses at leading research universities.
For more information, visit
http://www.portal.state.pa.us/portal/server.pt/community/offices___commissions/2996/african_american/1000266
.
###
Carnegie Mellon's Kiron Skinner, pictured above, is a renowned expert in international relations, U.S. foreign policy and political strategy.