May 07, 2012
Press Release: 61 Graduates Join Global Carnegie Mellon Family of Alumni
Contact:
D. Murry Evans / +974 4454 8490 /
dmevans@qatar.cmu.edu
or
Kimberly Mathern / +974 6645 5177 /
kimberlym@brownlloydjames.com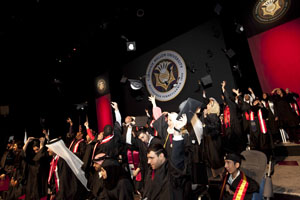 DOHA, QATAR—Carnegie Mellon University in Qatar celebrated its largest graduating class to date at a ceremony on Monday, May 7, at the Qatar National Convention Centre. His Excellency Sheikh Ahmed bin Jassim bin Mohamed Al-Thani, Director General of the Al Jazeera Network, delivered the keynote speech to the 61 graduates and an audience more than 1,000 family, friends and community members.
In the Scottish tradition of Carnegie Mellon University, bagpiper John Gasper led a formal procession of faculty, dignitaries and graduating students. Thirty-three students are graduating in business administration students, 15 in computer science and 13 in information systems.
Congratulating the graduating class Ilker Baybars, dean of Carnegie Mellon University in Qatar, said, "Graduation is an event that commemorates our heritage, celebrates our achievements and heralds the promise of a bright future — not only for our graduates, but for the university as well. These graduates will have a lifelong connection to this campus in Qatar, our home campus in the United States, and Carnegie Mellon alumni around the world."
Sara Abbas, graduating with honors in business administration and a recipient of a 2012 Senior Student Leadership Award, was selected to be the class speaker. Abbas reflected on her views on progress and innovation in the Middle East.
"People who continue learning and challenging the status quo to fill a gap are the innovators. Those are the people whose contributions move societies forward. Those are the people Carnegie Mellon has prepared us to be. Those are the people we all must be," Abbas said.
Jared L. Cohon, president of Carnegie Mellon University, delivered the charge to the graduates: "As you move into your jobs and communities, keep in mind that you are a member of a remarkable group of almost 90,000 Carnegie Mellon alumni. People, like you, who are committed to real solutions for real problems, architects of change whose hearts are in the important work that lies before you.  As you join this group, Carnegie Mellon will be watching you with pride and high expectations.
During the ceremony, awards were given to students for their academic achievements. John Robertson, assistant dean, presented the Andrew Carnegie Society Scholar award to Edmond Abi Saleh and the Qatar Campus Scholar awards to Abi Saleh, Yazan Abu Hijleh and Dania Marwan Abed Rabbou.
Nine students in this graduating class were also recognized with 2012 Senior Leadership Recognition Awards: Zaid Haque, Sara Khaled Mohamed Abbas, Mohammed Ibrahim Janahi, Batoul Khalieh, Mohamed Hussain, Mohammad Mazen Dauleh, Mohammad Abed Shirzai, Aliah Ahmad Dehdary and Yazan Abu Hijleh.
Yonina Cooper, associate professor in computer science, was also commemorated during the ceremony and awarded the Outstanding Teacher Award.
Hend Kamal Gedawy, Carnegie Mellon Qatar Class of 2009, joined the undergraduates as she received a Master of Science in Computer Science from the Carnegie Mellon University in Pittsburgh.
Eighteen nationalities are represented in the Class of 2012 including the State of Qatar, the United States of America, Afghanistan, Algeria, Bahrain, Egypt, France, Greece, India, Iraq, Jordan, Kuwait, Lebanon, Pakistan, the Palestinian Territories, Sudan, Syria and Yemen.
Members of Carnegie Mellon University in Qatar's Class of 2012 are as follows:
Graduates of the Dietrich College of Humanities and Social Sciences with a Bachelor of Science in Information Systems:
Yazan Abu Hijleh (Honors), Amal Qasem Alamri, Mohammed Abdulhameed Al-Haddad, Rashid Sultan Alkaabi, Salwa Al-Mannai, Ghada Ahmad Al-Sooj, Ghanim Mohammed Al-Sulaiti (Honors), Asma Mohamed Idris Ali Hamid, Zaid Haque, Abdulmunim Kelzieh, Rana Khalil, Aamir Masood and Allan Reeves.
Graduates of the School of Computer Science with a Bachelor of Science in Computer Science:
Dania Marwan Abed Rabbou (Honors), Raggi Al Hammouri, Rami Al Rihawi, Maryam Aly (Honors), Mohammed Miloud Behih, Maha El-Moghany, Ahmed Emam, Huda Kamal Gedawy, Tarkay Obaid N. M. Jamaan (Honors), Mohammed Ibrahim Janahi, Swapnil Dharmendrakumar Joshi, Mohammed Majid Mohsin, Ossama Walid Obeid, Mohammad Tayyab Rashid and El-Hasan Wanas.
Graduates of the Tepper School of Business with a Bachelor of Science in Business Administration:
Sara Khaled Mohamed Abbas (Honors), Edmond Abi Saleh (Honors), Muna Abu-holayqah, Rand Agha, Rawan Victor Agha, Saoud Alaa Kamil Al-Badran, Maryam Jabir Al-Buhendi, Aisha Ali Al-Hail, Belal Al Kadhi, Nasser Ahmed Al-Khori, Sara Allouba, Amna Ahmed Al-Mazroei (Honors), Abdulrahman Fuad Al-Mudahka, Hassan Ali Ahmed Al Mulla, Aljohara Alobaidly, Mohammed Abdulrahman Mohammed Al Saad, Issa Ahmad Al-Sheeb, Ahmed Fahad Jassim H Al-Thani, Khalifa Al-Thani, Ushna Amer, Abdallah Zeyad Darwish (Honors), Mohammad Mazen Dauleh, Aliah Ahmad Dehdary, Omar Mohamed El-Zoheery, Layal Ishaq Hasan (Honors), Mohamed Hussain (Honors), Marie-Joe Germanos Khachan (Honors), Mohammed Fahad Kamal, Batoul Khalifeh, Waleed Ali Khan, Nada Mazin Mohammed Mohsin, Fatima Nadeem and Mohammad Abed Shirzai.
###