May 03, 2012
Press Release: Carnegie Mellon University Senior Art Students Present Final Exhibition; "Terms & Conditions" Opens May 4 at Miller Gallery on Campus
Contacts: Pam Wigley / 412-268-1047 / pwigley@andrew.cmu.edu
Lauren Goshinski / 412-268-1533 / laurengo@andrew.cmu.edu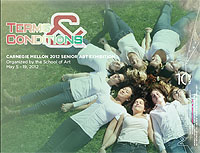 PITTSBURGH—Forty-three students graduating with bachelor's degrees in fine arts and interdisciplinary arts will present their work in "Terms & Conditions" at Carnegie Mellon University's Miller Gallery, May 4-19. An opening reception will be held from 6 - 8 p.m., Friday, May 4. The artists and faculty will discuss their work from 6:30 – 9:30 p.m., Thursday, May 10. Admission is free and open to the public.
With notions of art-making, commodity and spirituality as tools for achieving an "enlightened" life, the student-named exhibition presents a wide range of work spanning video, printmaking, painting, sculpture, digital fabrication, performance and more. "For the last four years, the School of Art has developed a new collection for premium existence in the contemporary world. ... We are excited to share with you the products of the future. Together at the School of Art, we put forth tools for both living and considering in contemporary times, satisfaction guaranteed," the class statement reads, followed by a reference noting that "terms & conditions apply."
For the Class of 2012, it has been a journey of blended styles and subjects, thanks to the interdisciplinary approach that has underscored their undergraduate education. The Bachelor of Fine Arts degree addresses many issues facing the contemporary artist and aims to develop each student's commitment, knowledge and creative skills necessary to work in a rapidly changing global culture. The BXA Intercollege Degree Program, in which students may choose from three bachelor's degree programs — Arts & Humanities, Arts & Sciences, and Arts & Computer Science — has been steadily growing during the past several years, and gives students the freedom to individualize their educational experience by focusing on the three primary components of integration, balance and innovation.
Those elements and more are on display in the senior artists' work at the Miller Gallery, Carnegie Mellon's award-winning, critically acclaimed contemporary art gallery located in the Purnell Center for the Arts on campus. The gallery is free and open to the public from noon to 6 p.m. Tuesday through Sunday. More information on "Terms & Conditions" is available at http://millergallery.cfa.cmu.edu/exhibitions/seniorart2012.

###