May 03, 2012
Press Release: "In the Name of El Pueblo," by Carnegie Mellon's Paul K. Eiss, Wins Book Award From Latin American Studies Association
Contact: Shilo Rea / 412-268-6094 / shilo@cmu.edu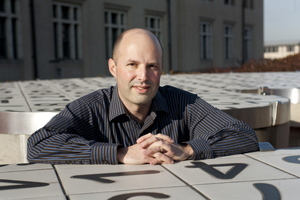 PITTSBURGH—Carnegie Mellon University's Paul K. Eiss, associate professor of anthropology and history, has won a book award from the Mexico Section of the Latin American Studies Association (LASA) for his book "In the Name of El Pueblo: Place, Community and the Politics of History in Yucatán." The award honors the best book on Mexico published in all social science fields in 2010 and 2011. Eiss will be presented with the award at LASA's 2012 conference May 25 in San Francisco.
"'In the Name of El Pueblo' is based upon more than a decade of ethnographic and archival research in northwestern Yucatán," Eiss said. "In the book, I explore how 'el pueblo' emerged and was transformed as a concept uniting place, community and collective political consciousness from the 18th century to the present. I am very honored that the association recognized the book this way."
Earlier this year, "In the Name of El Pueblo" was awarded the Conference on Latin American History prize for best Mexican history book. It also has received high praise from Eiss' peers, including Gilbert M. Joseph, the Farnam Professor of History and International Studies at Yale University.
"Few regions of Mexico have elicited as sophisticated a dialogue between history and anthropology as Yucatán has of late," Joseph said. "With this book, Paul K. Eiss positions himself at the crest of this new wave of interdisciplinary scholarship. Daunting in its chronological scope and breadth of research and analysis, distinguished by a meticulously crafted and often haunting narrative, and pioneering in its interwoven understanding of community, popular politics, state formation, indigenous identity, and historical memory, this book sets a new standard for the production of Mexican social histories and ethnographies. 'In the Name of El Pueblo' is a splendid achievement, not least for the probing questions it raises about the nature of history itself."
As director of CMU's Center for the Arts in Society, Eiss works to brings artists and humanistic scholars together in interesting and new ways - in creative, transdisciplinary explorations of the place of the arts in society and society in the arts. Eiss' own research and teaching focus on uncovering new perspectives on topics such as value, memory, politics and religion. He is currently working on a study of "narcomedia," a term he uses to refer to the convergence of the drug war violence and the rise of the new media in contemporary Mexico, and on a historical and ethnographic study of the popular theater in Yucatan focused on the cultural politics of race mixing.
"In the Name of El Pueblo: Place Community and the Politics of History in Yucatán" was published by Duke University Press Books. For more information, visit http://www.amazon.com/In-Name-Pueblo-Community-Otherwise/dp/082234727X.
###