May 23, 2012
Press Release: Microsoft Research Awards Faculty Fellowship To Carnegie Mellon Computer Scientist Emma Brunskill
CMU Alumnus Andreas Krause Also Honored
Contact:
Byron Spice / 412-268-9068 /
bspice@cs.cmu.edu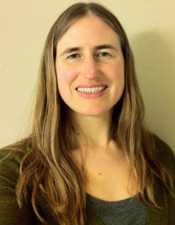 PITTSBURGH—
Emma Brunskill
, assistant professor of computer science at Carnegie Mellon University, is one of seven recipients this year of a prestigious Microsoft Research Faculty Fellowship, which recognizes pioneering young academic researchers working in key areas of computer science.
Another fellowship recipient is
Andreas Krause
, who earned his Ph.D. in computer science at Carnegie Mellon in 2008 and is now an assistant professor of computer science at the Swiss Federal Institute of Technology Zurich and the California Institute of Technology.
Now in its eighth year, the
Microsoft Research Faculty Fellowship Program
rewards innovative new faculty members who are exploring breakthrough, high-impact research that has the potential to help solve some of today's most challenging societal problems.
"Emma pushes computer science research at Carnegie Mellon in exciting new directions," said Jeannette Wing, head of the Computer Science Department. "She has the courage and vision to tackle societal grand challenges, such as education, sustainability and health care, through fundamental advances in computational methods for sequential decision making.  Her desire for impact goes beyond traditional measures of academic success; she wants to make a difference in the lives of people in developing or low-income regions."
Brunskill's research area is artificial intelligence and her particular emphasis is on decision making under uncertainty - making a series of decisions without knowing the exact outcome of each decision. This is relevant to many applications, including health care and robotics, though much of her work to date has focused on education.
"One area that very much interests me is creating and formally analyzing algorithms that enable artificial agents to perform lifelong learning across a series of tasks, leveraging prior experience to increase later performance," she said. "In addition to being a fundamental aspect of intelligence, such approaches could help us develop applications such as self-improving educational software that teaches better as it interacts with more students.
"The Microsoft fellowship will greatly help me to build a group passionate about pursuing this research by providing funds for student support and postdocs."
Each Microsoft Research Faculty Fellowship includes a cash award. Fellows also have access to other Microsoft resources, such as software, invitations to conferences and engagements with Microsoft Research. The program provides recipients considerable freedom in planning the focus of their academic research.
"The main thing you hear again and again from past recipients is that this gives them instant recognition within their field," said Harold Javid, a director with
Microsoft Research Connections
. "They are recognized at conferences, younger researchers ask them about the process and they get a chance to network in a way they could not before.
"And, of course, the funds are a big help. They can go down more risky paths, because they don't have to make a promise at the start that they will achieve a certain result. This lets them be bold, and that can really help them with their career."  
Brunskill, who joined the faculty of the Computer Science Department last August, also has been selected as a 2012-2013 Wimmer Faculty Fellow by the
Eberly Center for Teaching Excellence
at Carnegie Mellon and has received funding for her research from the university's
Berkman Faculty Development Fund
.
Brunskill received a bachelor's degree in computer engineering and physics at the University of Washington and, as a Rhodes Scholar, was awarded a master's degree in neuroscience at Oxford University. She earned a Ph.D. in computer science at the Massachusetts Institute of Technology and was a postdoctoral research fellow in computer science at the University of California, Berkeley, before coming to Carnegie Mellon.  
Luis von Ahn, associate professor of computer science, was a 2007 Faculty Fellow.
The Computer Science Department is part of Carnegie Mellon's acclaimed School of Computer Science. Follow the school on Twitter @SCSatCMU.
###