May 17, 2012
News Brief: SCS Alum Charles Geschke Elected to American Philosophical Society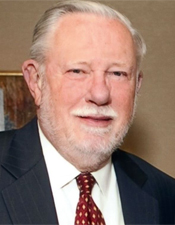 Charles M. Geschke, co-founder of Adobe Systems Inc., is one of 30 distinguished men and women elected this spring to the American Philosophical Society, an honorary society whose members are drawn from a wide variety of academic disciplines.
Geschke earned his Ph.D. in computer science at Carnegie Mellon in 1973. An influential leader in the software industry for 35 years, he has maintained close ties with the School of Computer Science. Recently, he and his wife, Nancy, endowed the directorship of SCS's Human-Computer Interaction Institute.
He has received numerous honors, including the 2010 Marconi Prize, the equivalent of the Nobel Prize for the field of information technology. In 2008, he was elected to the American Academy of Arts and Sciences and in 2009 President Barack Obama awarded him the National Medal of Technology and Innovation.
Other members elected to the Philadelphia-based American Philosophical Society last month include Donald Knuth, professor emeritus of the Art of Computer Programming, Stanford University; Terence Tao, professor of mathematics, University of California, Los Angeles; novelist Cormac McCarthy, artist Gerhard Richter, and Mary-Claire King, professor of medical genetics, University of Washington.