May 16, 2012
Press Release: Carnegie Mellon Hosts Conference, Performances of Eco-centered Dramatic Works
Contacts:
Pam Wigley / 412-268-1047 /
pwigley@andrew.cmu.edu
Dennis Schebetta / 412-268-2068 /
dschebet@andrew.cmu.edu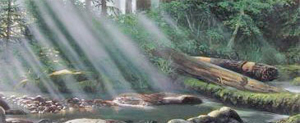 PITTSBURGH—The eco-minded come together in any manner of ways to express their passion on the topic of the environment, and Carnegie Mellon University will host a group that's dedicated to expressing concerns about the planet through dramatic performances. The
Earth Matters on Stage Playwrights' Festival and Symposium
(EMOS) 2012 conference will be hosted by Carnegie Mellon's
School of Drama
from May 31-June 2 at the Purnell Center for the Arts. The performance artist Holly Hughes, whose most recent work explores the use and meaning of animals in performance, will deliver the keynote speech, "The Dog and Pony Show: Bring Your Own Pony."
EMOS' mission is "to call forth and nurture new dramatic works that respond to and interpret the ecological crisis," said Wendy Arons, associate professor of dramatic literature.
The festival presents workshop readings of the winners of an international playwrights' competition: The EMOS Ecodrama Playwrights' Contest. Winning playwrights are present for the productions, readings and post-performance discussions with audience and actors. Concurrently, the EMOS Symposium on Performance and Ecology gathers speakers, panels and discussions that will advance scholarship in the area of arts and ecology and help to foster development of new works.
"Anyone who has an interest in sustainability and all that relates to it is welcome to attend the conference," she said. "Additionally, there are two plays on the schedule that people may find enlightening, and those performances are open to the public."
The plays are first- and second-place winners selected by a panel of judges based on their relevance to the subject matter. The winners are "Sila" by Chantal Bilodeaux of New York City; the runner-up is "Bears" by Mark Rigney of Evansville, Ind. Each play will receive a workshop performance led by local directors Sam Turich and Jeff Carpenter, and featuring professional actors from Pittsburgh. "Sila" will be performed June 1; "Bears" on June 2. The performances begin at 8 p.m. and will take place in the Helen Wayne Rauh Theater. Individual tickets for the show are $7.50 and can be purchased at the School of Drama Box Office.
In addition, the conference features a full slate of workshops and panels on topics ranging from devising eco-theater to scholarly analysis of eco-drama to reducing theatrical productions' environmental impact. Participants include academic scholars, working artists, playwrights, dancers, theater designers and technical directors. For a full schedule and registration information, visit
http://www.emosfestival.wordpress.com
.
The conference is sponsored by Carnegie Mellon's College of Fine Arts, School of Drama and the Center for the Arts in Society, as well as the university's Steinbrenner Institute for Environmental Education and the American Society for Theatre Research.
###