March 06, 2012
News Brief: CMU's Nicole Hassoun's New Book Examines "Globalization and Global Justice"
Contact:
Shilo Rea / 412-268-6094 /
shilo@cmu.edu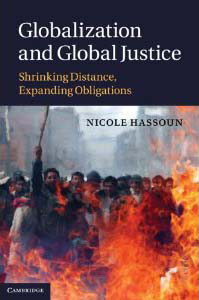 Most Americans could not fathom living in an actual garbage dump. Yet about half of the world's population lives in extreme poverty and decrepit conditions. Surrounded by diseases such as malaria and tuberculosis, they lack the resources or capabilities necessary to secure adequate food, water, shelter, education and health care.
In her new book "Globalization and Global Justice: Shrinking Distance, Expanding Obligations," Carnegie Mellon University's Nicole Hassoun examines how the world becoming more interconnected changes international institutions' duties to the world's poor. Hassoun, assistant professor of philosophy within the Dietrich College of Humanities and Social Sciences, argues that there are significant obligations that must be met to aid the impoverished.
"When you witness a woman in the Philippines picking up garbage from the garbage dump she lives in to sell to recyclers, it raises pressing questions about global justice," said Hassoun. "International institutions must help their subjects avoid the kind of poverty that undermines their ability to reason and plan. Otherwise, people cannot even object to their rules."
Hassoun insists that there are many coercive international institutions, such as the World Bank and International Monetary Fund, that must provide the means for their subjects to avoid severe poverty. She then considers the case for aid and trade, concluding with a new proposal for fair trade in pharmaceuticals and biotechnology.
For more information or to order an advanced copy of "Globalization and Global Justice," visit
http://www.amazon.com/Globalization-Global-Justice-Shrinking-Obligations/dp/1107010306
.