March 02, 2012
News Brief: Newt 2012 Names CMU's Kiron Skinner as National Co-Chair for its Women With Newt Coalition
Contact:
Shilo Rea / 412-268-6094 /
shilo@cmu.edu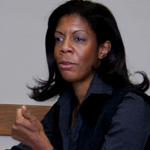 Newt Gingrich's Presidential Campaign, Newt 2012, has named Carnegie Mellon University's Kiron Skinner as the new National Co-Chair for its Women with Newt Coalition. The coalition is spearheading women's outreach leading up to Super Tuesday and the general election.  
Skinner, associate professor of social and decision sciences and director of CMU's Center for International Relations and Politics, will provide Newt 2012 with expertise in the areas of international relations, security policy and political strategy.  
"I've been a supporter of Speaker Gingrich for a long time. I've seen him in numerous professional circumstances and have been extremely impressed with his command of complex and overlapping issues that are especially pressing to women — national security, the economy, and education," said Skinner, who is also a Hoover Institute Research Fellow.  
Skinner will join the national coalition, led by Callista Gingrich, Sue Lynch, Jeri Thompson, Gay Hart Gaines, Linda Upmeyer, Kathy Gingrich Lubbers and Jackie Gingrich Cushman.  
"I am excited about the ideas and research Kiron is bringing to help shed light on the issues that are most important to women," Newt Gingrich said. "They will be instrumental in helping us reach women of all backgrounds and experiences."
In November 2011, Skinner joined Gingrich's campaign as a foreign policy adviser. Read more at
http://www.cmu.edu/news/stories/archives/2011/november/nov28_gingrichcampaign.html
.
Pictured above is Kiron Skinner.