March 22, 2012
Press Release: Two CMU Students Selected Public Policy & International Affairs Fellows
Contact: Shilo Rea / 412-268-6094 / shilo@cmu.edu


PITTSBURGH—Two students in Carnegie Mellon University's Dietrich College of Humanities and Social Sciences have received competitive Public Policy & International Affairs (PPIA) Fellowships. Both juniors, Christian Aponte (right) and Nicole Hamilton (below) will attend summer institutes at a top-ranked university to sharpen the students' quantitative, analytic and communication skills.
The fellowship program is designed to prepare students from diverse backgrounds for graduate studies and groom them for professional roles in public service. After completing the Junior Summer Institute, Aponte and Hamilton will be eligible to attend a top public policy graduate school with significant - oftentimes 100 percent - financial support.
"Christian and Nicole are outstanding students and members of the Carnegie Mellon community," said Stephanie Wallach, assistant vice provost for undergraduate education.  "PPIA is a terrific fit for their interests, and it will enable them to develop skills and build close community ties with other talented young people who are genuinely committed to public service."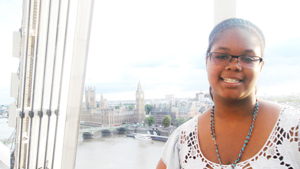 Aponte, who is majoring in global studies and Hispanic studies, thought the fellowship program would be a great fit for his interests in education and international affairs as well as help him become a more effective leader.
"I am most interested in how public policy and international affairs affect education," said Aponte, who will study at the University of California, Berkeley. "Eventually, I would like to unite my interests by developing educational programs that grant inner-city high school students connections to other high schools across the world, initiating a sort of no-boundaries network between young adults."
Hamilton, an ethics, history and public policy major, will spend the summer at Princeton University. She is looking forward to life after college and applying what she has been learning in the classroom.
"What interests me most about public policy and international affairs is how no aspect of knowledge or human experience is irrelevant when trying to craft a policy for running a nation or understanding a conflict," Hamilton said. "I love how the more you get into the minutiae of a topic, the more things do become complicated and the more one is able to produce good and effective policy."
   

###