March 01, 2012
News Brief: Carnegie Mellon President Receives Honorary Degree from KAIST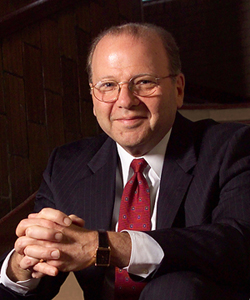 Carnegie Mellon University President
Jared L. Cohon
received an honorary degree in science and technology from the Korea Advanced Institute of Science and Technology (KAIST) during the institute's commencement ceremony on Friday, Feb. 24 in Daejeon, Korea.  
Cohon, who also delivered the commencement address, received the degree in recognition of his professionalism and dedication to science, technology and higher education. CMU and KAIST have been operating joint research projects, student and faculty exchanges, and a dual-degree program since 2007.
In his address, Cohon borrowed the concept of "habits of mind" developed by a Harvard professor, Howard Gardner, to remind graduates that what they acquired at KAIST will become an invaluable asset throughout their lives. The four habits refer to a high level of content knowledge and disciplinary expertise, a willingness and ability to work across disciplines, openness to new and creative solutions, and an expanded sense of responsibility.