March 13, 2012
Statement From Carnegie Mellon President Jared L. Cohon on Proposed U.S. Network for Manufacturing Innovation and Pilot Manufacturing Institute
Contact: Teresa Thomas / 412-268-2900 / thomas@cmu.edu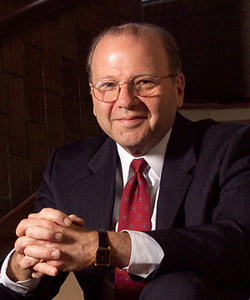 U.S. President Barack Obama's call to establish a National Network for Manufacturing Innovation and a Pilot Manufacturing Institute signals the mobilization of a commitment by U.S. leadership in support of emerging manufacturing industries, according to Carnegie Mellon University President Jared L. Cohon. 

"The president has challenged universities, industry, government and communities to forge new ways to collaborate on discovery, commercialization and the building of workforce skills to ensure that advanced manufacturing creates jobs in the United States. Working together, American universities, industry, community colleges, economic development partners and startup companies can launch entirely new manufacturing industries around innovations in advanced materials, flexible electronics and a new generation of robotics. This effort demands new partnerships to accelerate research ideas into companies and clears the path to jobs and production. It is a renewed commitment to 'making things' that the Pittsburgh region recognizes well."

President Obama's announcement follows a series of administration initiatives aimed at fostering a "renaissance" in U.S. manufacturing, beginning with the launch of the Advanced Manufacturing Partnership and National Robotics Initiative at Carnegie Mellon's National Robotics Engineering Center last June.
###
Pictured above is Carnegie Mellon University President Jared L. Cohon.