March 12, 2012
Press Release: Carnegie Mellon's National Robotics Engineering Center Offers Professional Education on Robot Capabilities
Will Share Insights on Where Robots Can and Can't Solve Problems
Contact: Byron Spice / 412-268-9068 / bspice@cs.cmu.edu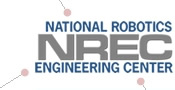 PITTSBURGH—Engineers and managers responsible for research and new product development can learn how and where robotic technology can be applied successfully in the Robotics Professional Education Course, May 22-24 at Carnegie Mellon University's National Robotics Engineering Center (NREC).
For 17 years, the NREC, part of Carnegie Mellon's pioneering Robotics Institute, has worked with industrial firms and government agencies to solve problems and create new capabilities across an unparalleled range of real-world systems. NREC engineers have used mobile robots and other advanced robotic technologies to address challenges in military, mining, agricultural and other settings.
During the 21/2 day course, NREC faculty and senior staff members will share their insights in this emerging field, identifying the strengths and weaknesses of various robotic technologies, reviewing case studies and providing techniques for assessing the suitability and costs of robotic technologies.
Attendees also can schedule a private meeting with NREC specialists to discuss how their organizations might take advantage of robotic technologies.
The cost of the course is $2,000, with discounts available for NREC sponsors, government employees and registrations completed by April 20. For more information, visit http://www.nrec.ri.cmu.edu/projects/course/2012/.

###