March 12, 2012
Press Release: CMU's International Film Festival Brings Two Sundance Winners to Pittsburgh
"Faces of Others" Runs March 22-April 15 at Various Locations Throughout the City
Contact: Shilo Rea / 412-268-6094 / shilo@cmu.edu


PITTSBURGH—Carnegie Mellon University's International Film Festival is bringing two of the famed Sundance Film Festival's 2012 winners, along with an array of other acclaimed films, to Pittsburgh.
Running March 22 through April 15 at various locations throughout the city, "Faces of Others" will use a record 20 films to explore the concept of the other — or anything that is not us.
"We searched the world to select unique, independent films that seek to understand what the other is," said Jolanta Lion, director of the film festival. "Many are top films at the Amsterdam, Cannes, Berlin and Sundance festivals, and some are still in the festival circuit vying for recognition."
"Putin's Kiss," winner of Sundance 2012's World Cinema Cinematography Award: Documentary, is a Danish and Russian film about a 19-year-old who starts to recognize flaws in a strongly nationalistic Russian youth movement that aims to protect the country from its enemies. It will be shown at 7 p.m., Saturday, March 24 at the Melwood Screening Room and at 7 p.m., Thursday, March 29 in CMU's McConomy Auditorium.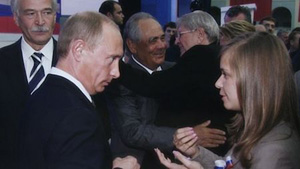 The 2012 Sundance winner for World Cinema Directing: Documentary, "5 Broken Cameras," will screen at 7 p.m., on Thursday, April 12 at CMU's McConomy Auditorium. Directors Emad Burnat and Guy Davidi offer a first-hand look at five years of West Bank protests, effectively pairing political history with personal life.
Another highlight of the festival is the American and Dutch film "Girl with Black Balloons" from director Corinne van der Borch. It will be shown at 7:15 p.m., on Thursday, March 29 at the Harris Theater. Van der Borch, who will attend her film's screening, is attracted to documentary filmmaking because it allows her to keep reinventing stories.
"The most important aspect of my filmmaking is that I believe a relationship can be seen and felt on the screen," she said. "For me, filmmaking is about telling stories from surprising angles, whether they are fictional or documentary-based. A documentary can be as entertaining and compelling as any scripted film."
"Girl with Black Balloons" is about Bettina, a woman said to be the most beautiful woman to have ever lived in the legendary Chelsea Hotel in New York City. She also is said to have hid herself away in her studio for the past 40 years. Sleeping on a lawn chair, Bettina is surrounded by boxes stacked from the floor to ceiling, all filled with a stunning body of artwork that has never seen the light of day.
"Sacrifice, obsession and devotion are the words that floated around in my head when I first learned more about Bettina," van der Borch said. "Her life as a reclusive guardian over her creativity and artwork inspires us to think about the world we have each chosen for ourselves, how we are captive of it or freed by it."
As in past festivals, each film screening will be paired with an interactive element — from appearances and Q&A sessions with the film director to local experts weighing in on the film's topics.
The Polish film "Suicide Room" will kick off the Carnegie Mellon Campus Opening Night at 7:30 p.m., on Friday, March 23 in CMU's McConomy Auditorium. The screening event will be followed by a presentation by CMU's Entertainment Technology Center, games by the Video Game Creation Society of CMU and a reception with food. A tour de force of computer generated artistry, this film contrasts the virtual world to the real world fraught with generational and sexual conflict. "Suicide Room" also was selected as the best of festival by the Festival Student Jury.
The festival also will feature an exciting event surrounding the German film "Joschka and Sir Fischer" at 6:30 p.m., on Friday, March 30 in CMU's McConomy Auditorium. Oscar-winning director Pepe Danquart and members of the Consulate General of the Federal Republic of Germany in New York are scheduled to appear, and professors from the History departments at CMU and the University of Pittsburgh will moderate an insightful Q&A session with Danquart after the film screening. "Joschka and Sir Fischer" recounts the extraordinary biography of colorful German Politician Joschka Fischer and his part in shaping Germany post World War II.
Opening night (March 22) general admission tickets to the film and reception are $15 and $10 for seniors and students. General admission tickets for all other screenings are $8 and $4 for seniors and students. The 3D screening of the Polish film "Battle of Warsaw 1920" on Sunday, March 25 at AMC Loews Waterfront 22 is $20 and $10 for seniors and students. A full-access festival pass can be purchased for $50 ($25 for seniors and students).
"Faces of Others" is sponsored by CMU's Humanities Center, The Pittsburgh Foundation, The Fine Foundation, The American Hellenic Foundation of Western Pennsylvania, PNC Bank, The Consulate General of the Netherlands in New York, The Consulate General of the Republic of Poland in New York, The Consulate General of Federal Republic of Germany in New York, The Netherlands Cultural Services and the generous support of the University of Pittsburgh, The Art Institute of Pittsburgh, The Pittsburgh Filmmakers, Carlow University, The Pittsburgh Cultural Trust, The Middle East Peace Forum of Pittsburgh and media sponsor WYEP.
For ticket reservations, film descriptions and a complete schedule, visit www.cmu.edu/faces.
     
###
Pictured above are scenes from "Putin's Kiss" and "5 Broken Cameras."