June 05, 2012
Press Release: Carnegie Mellon's Jim Daniels Wins Three Book Awards
Contact: Shilo Rea / 412-268-6094 / shilo@cmu.edu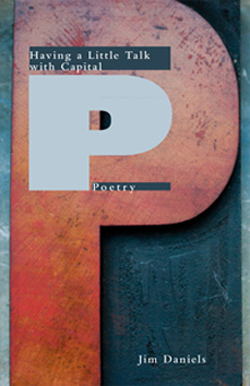 PITTSBURGH—Jim Daniels is a writer well known for capturing our culture, everyday lives and the gritty spirit of urban America through both poetry and short stories.
Daniels, the Thomas Stockham Baker Professor of English at Carnegie Mellon University, has won three book prizes for his two books published in 2011. His poetry collection, "Having a Little Talk with Capital P Poetry," won the Independent Publisher Book Awards 2012 Gold Medal for Poetry and the 2012 Paterson Award for Literary Excellence from the Paterson Poetry Center. "Trigger Man: More Tales of the Motor City," Daniels' latest book of short stories, was the winner of the Midwest Book Awards in the Fiction: Short Story/Anthology category.
"Carnegie Mellon is a place that recognizes that creative inquiry and teaching are on the same continuum of knowledge creation," said Chris Neuwirth, head of the Department of English. "We are very fortunate that our students have the chance to develop a deep understanding of their discipline by working with Jim Daniels, an award-winning artist who is deeply committed to teaching."
In "Having a Little Talk with Capital P Poetry," Daniels tells wide-ranging stories from living in Detroit and Pittsburgh and the differences between childhood and parenthood to meditating on memory and loss and confronting issues in everyday life. He also riffs on popular music with "Esperantos," poems attempting to capture what is universal about music, and introduces a new character — "the Tenured Guy" — to examine some of the less noble aspects of academia. It was published by Carnegie Mellon University Press.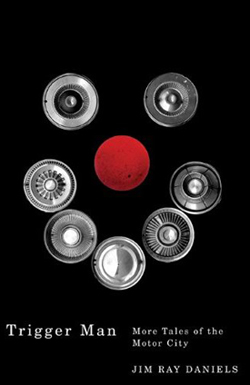 Daniels followed his previous book of short stories, "Mr. Pleasant," with "Trigger Man." Published by Michigan State University Press, "Trigger Man" features older characters and darker, less coming of age stories. Grounded on the bleak streets of Detroit, Daniels infuses humor into grim circumstances that his characters face because of dire industrial and economic situations. He also explores the mythical "Up North," the idealized country of many Detroit workers' fantasies — an escape from the concrete-and-metal reality of their daily lives.
Daniels' work frequently crosses different genres, something he credits teaching at Carnegie Mellon for stimulating. He has published four books of short stories and 12 books of poetry. He has written three films, including 2010's "Mr. Pleasant," and edited or co-edited four anthologies. Also in 2010, Daniels collaborated with CMU professors Jane McCafferty and Charlee Brodsky on "From Milltown to Malltown," which combines poetry and photography to explore the transformation of Homestead, Pa., from the once thriving steel-producing capital of the world to an area divided.
In addition to his latest awards, Daniels has won the Brittingham Prize for Poetry, the Blue Lynx Poetry Prize, the Tillie Olsen Prize and two fellowships from both the National Endowment for the Arts and Pennsylvania Council on the Arts. His poetry has appeared in the "Pushcart Prize" anthology, "Best American Poetry," Billy Collins' "Poetry 180" and Ted Kooser's "American Life in Poetry" series. And, his poem "Factory Love" was reproduced on the roof of a racecar.
For more information, watch this video of Daniels reading from "Having a Little Talk with Capital P Poetry" or visit http://www.cmu.edu/hss/english/people/faculty/bios/jim-daniels.html.

Related Articles:
CMU's Jim Daniels Has Little Talk With Academia, Musicians in New Poetry Book
CMU's Jim Daniels Tells More Tales of the Motor City in "Trigger Man"   

###