June 04, 2012
Media Advisory: Carnegie Mellon University's Steinbrenner Institute Celebrates 10th Anniversary of Environmental Media Fellowships for National Journalists
Contact:
Chriss Swaney / 412-268-5776 /
swaney@andrew.cmu.edu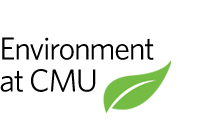 Event:
Carnegie Mellon University's
Steinbrenner Institute for Environmental Education and Research
(SEER) will host 10 top environmental journalists for the 10th anniversary of the highly successful Steinbrenner Institute Environmental Media Fellowships.
The journalists are: David Abel, a reporter with The Boston Globe; Daniel Stone, a senior reporter with Newsweek Magazine; Dean Scott, a senior reporter for climate change at Bloomberg; Pamela Hunter McFarland, a reporter with Engineering News Record; Benjamin N. Dooley, an assistant correspondent with Kyodo News Service; Anne Paine, a freelance environmental reporter; Olga Belogolova, a reporter with the National Journal; Margaret Kriz Hobson, a reporter with Greenwire/Energy Wire; Perry Beeman, a reporter with The Des Moines Register; and Ricci Shryock, a reporter with Voice of America.
"The fellowship enables leading environmental science, technology and policy journalists to broaden and deepen their knowledge of environmental issues. It also provides a unique opportunity for Carnegie Mellon faculty members to share their research findings with, and learn about communication skills and strategies from a group of top reporters and editors," said David A. Dzombak, faculty director for the Steinbrenner Institute and the Walter J. Blenko Sr. Professor of Environmental Engineering.
Deborah Lange, Steinbrenner Institute executive director and head of the Western Pennsylvania Brownfields Center, said the fellowship program has successfully attracted more than 60 media participants in the past decade. "I think we have learned from one another in this dynamic program, and we have also helped inform national media representatives about environmental innovation and progress in the Pittsburgh region," she said.
The journalists meet informally with researchers in engineering, computer science, robotics, the social sciences and architecture. The fellowship is co-sponsored by the university's College of Engineering and the Steinbrenner Institute, which is charged with developing and enhancing the impact of environmental research and education at Carnegie Mellon.
When:
9 a.m. - 6 p.m., June 10-12.
Where:
Carnegie Mellon University, 5000 Forbes Ave., Pittsburgh, Pa. 15213.
###