June 26, 2012
Press Release: Established Artist and Carnegie Mellon Alumna Joyce Kozloff Returns to Campus as Digital Arts "Artist-in-Residence"
Contact:  Pam Wigley / 412-268-1047 / pwigley@andrew.cmu.edu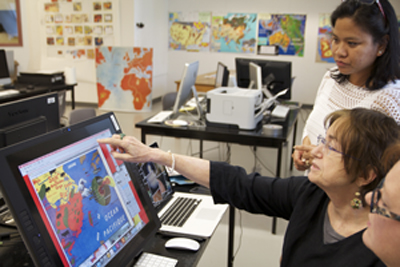 PITTSBURGH—Established artist Joyce Kozloff has become a student of art once again at her undergraduate alma mater, Carnegie Mellon University, where she is delving into the world of digital art.
Kozloff's work has been exhibited at galleries across the country and her commissioned art has been displayed to the public in such venues as the United States Consulate Art in Embassies Program in Istanbul, Turkey, and the International Terminal at San Francisco International Airport. She will be in Pittsburgh as an artist-in-residence at CMU's Digital Arts Studio through July 1.
Using a computer to help create her pieces wasn't something Kozloff even imagined doing.  For many years her work has featured the use of maps with layered images to convey her interests in history, culture, and the decorative and popular arts. But she found herself in Pittsburgh as a finalist for a public art project, and she was invited to speak at the School of Art Lecture Series in 2011. She toured the Digital Arts Studio (DAS) during her visit, and found that she was impressed and intrigued with the process of digitally creating art vs. the laborious task of cutting images from hard copy sources.
"Joyce expressed interest in what the DAS could produce, so I invited her to come back and learn about the digital process and how it supplements — not replaces — the traditional techniques that constitutes fine art," said DAS Manager Fran Flaherty.
Kozloff, who calls New York City home, admitted it wasn't easy to put down her scissors and pick up a stylus. She and Flaherty went through a bit of give-and-take that made work on her new exhibit — tentatively titled "Social Studies" — slow-going at first. "I wanted to learn this new way of creating art, but I also wanted to make sure we didn't lose anything in the translation."
"Social Studies" is a series of classroom world maps from the 1950s that Kozloff found in a Paris market. She initially began adding her visual commentary of patterns and images onto the maps in the traditional way: cutting and gluing items of interest onto the originals. The DAS has allowed her to digitally collage the maps and more quickly work on expressive mosaics for each part of the world depicted in the school maps. For instance, the originals highlighted such things as byproducts of various regions of the world — beef, poultry, grain and natural resources. Kozloff's art makes statements through her enhancements, depicting world events like nuclear hazards, conflict in the Middle East and the recent devastating tsunami in Japan.
The learning process has been energizing, and Kozloff is enjoying her time back in Pittsburgh, albeit for a brief period. The DAS artist-in-residence program is still a fledgling initiative that Flaherty describes as "still in its soft stages." The one- or two-week visits from emerging and established artists who want to learn from and/or share with current students likely will grow. Currently, formal applications are not part of the residency process.
"When the DAS was created, one of its missions was to use the space to produce art for our students, as well as established artists," Flaherty said. "We envisioned building an archive of work that was made in the DAS to provide assets to the DAS and the School of Art."
The DAS was made possible by a gift from another arts alumna, Joyce Bowie Scott, who made Flaherty's vision for a separate digital studio a reality. By spring semester 2011, the renovations to existing space and equipment upgrades were complete and ready for student and faculty use. At that time, Flaherty and others in the School of Art began discussing the idea for inviting outside artists. The DAS team has since invited or hosted alumnus John Lysak, United Kingdom artist Kelly Chorpening and performance artist Pat Olezsko.
Kozloff said she has been pleased with her experience. "It was very different at first — getting used to this new way of doing things," she said. "But once we hit our stride working together, it was hard to slow down."
Kozloff earned her bachelor's degree in fine arts at Carnegie Mellon in 1964. She went on to earn her master's degree from Columbia University and became a major figure in the Pattern and Decoration art movement of the 1970s, as well as the Feminist art movement during the same time period. For more information about Kozloff, visit her website at http://www.joycekozloff.net/.

###
Joyce Kozloff, shown above pointing at the computer screen, will be at CMU's Digital Arts Studio (DAS) through July 1. Her new exhibit, "Social Studies," is a series of classroom world maps from the 1950s that Kozloff found in a Paris market. The DAS has allowed her to digitally collage the maps and more quickly work on expressive mosaics for each part of the world.