June 01, 2012
Press Release: Carnegie Mellon University's College of Fine Arts Presents Paintings by Award-winning Artist Watfa Midani
Contact: Pam Wigley / 412-268-1047 / pwigley@andrew.cmu.edu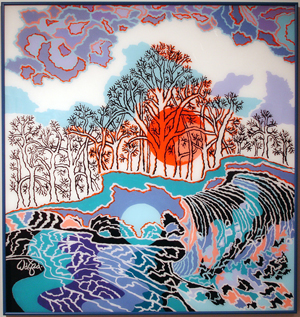 PITTSBURGH—The College of Fine Arts at Carnegie Mellon University presents an exhibition of recent paintings by local artist Watfa Midani, titled  "Love, Life and Nature." The exhibit will open from 6 to 8 p.m., June 1 and will be on view through June 30 at the Miller Gallery in the Purnell Center for the Arts on the Carnegie Mellon campus.
Midani's work has been featured in solo exhibitions at many venues, including: The Art Students League of New York; the Carnegie Museum of Art; the Hillside Gallery in Tokyo; the Turkish American Association in Ankara, Turkey; and the Pittsburgh Center for the Arts. Her work has been selected for group exhibitions at The Associated Artists Exhibition, the International Play Group in New York City, the Westmoreland Museum of American Art and the Lockhaven Art Center in Orlando, Fla.  Additionally, her work appears in private and corporate collections around the world.
From 1985 to 1987, Midani was art commissioner for the City of Pittsburgh. A native of Egypt, she has been a Pittsburgh resident for more than 40 years. Her late husband, Akram, was a former dean of Carnegie Mellon's College of Fine Arts.
The exhibition will be open to the public from 12 to 6 p.m., Tuesday through Sunday. Admission is free.
###
"Clouds in the Morning" is one of Wafta Midani's works on exhibit at Carnegie Mellon's Miller Gallery.