July 30, 2012
Press Release: Three Carnegie Mellon School of Drama Teams To Appear in NYC Fringe Festival
Contact: Pam Wigley / 412-268-1047 / pwigley@andrew.cmu.edu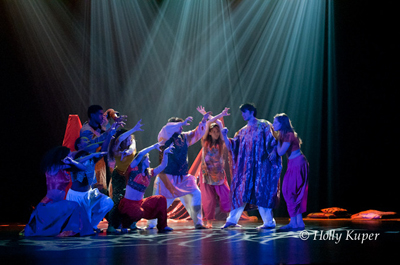 PITTSBURGH—Carnegie Mellon University's School of Drama has a proven track record of producing stars of stage, film and television, and three groups of current drama students hope to continue the tradition when they showcase their talents at the 16th annual New York International Fringe Festival (FringeNYC), Aug. 10 – 26, in New York City. FringeNYC is the largest multi-arts festival in North America, with more than 200 companies from around the world performing more than 1,200 shows in 16 days at more than 20 venues.
The CMU students have a tough act to follow. Fringe's top honor for a play in 2010 and 2011 was awarded to PigPen Theatre, a performance troupe that formed at Carnegie Mellon in 2008. It was the first time in Fringe's history that the same group won back-to-back honors. PigPen creates atmospheric theatrical fables with a unique blend of shadow puppetry, group movement, live music and clever lighting effects. PigPen has since toured nationally and released its first album this spring.
Like PigPen, this year's FringeNYC participants first performed their work in the Carnegie Mellon School of Drama's annual "Playground," a weeklong festival of student work that takes place each winter as part of the students' conservatory training. Their success at Playground inspired them to enter FringeNYC, where they hope to leave a lasting impression, as their former classmates did.
"All of us young aspiring artists are from the same university and are honored to be making our New York debut in this festival, which is an incredible opportunity," said Rodney Earl Jackson Jr., director and executive producer of "Sheherezade," a new take on the classic story of the Arabian nights. Written and co-directed by classmate Aidaa Peerzada, this play incorporates movement, puppetry and poetry to tell stories relating to women's strength and men's challenges from three cultures: Dutch, West African and Chinese. It is produced by Bathwater Productions.
The second work from Carnegie Mellon is titled "Behind the Badge," an autobiographical piece about two police officers and their sons. Students Lachlan McKinney and Marrick Smith, who tell their stories about growing up with fathers who were police officers, wrote the play. From the quirky and lighthearted to the serious and sometimes heartbreakingly tragic, it outlines the events that shaped the lives of four men, for better or for worse. The play's entire creative team comes from Carnegie Mellon's School of Drama. Sean Groves is director and lighting designer, Rachel Piero is stage manager and Rebecca Stoll is sound designer. The show is produced by Iron Shirt Productions.
The third production is "Inexperienced Love," a musical that follows three dynamic story lines exploring romance, discovery and the pitfalls of "this puzzling emotion called love," according to writer and Carnegie Mellon student Jacob Tischler. The musical comedy was directed by student Benjamin Viertel and produced by iLove Productions. Tischler said he is excited to get to New York and begin rehearsals next week.
"We're grateful to Carnegie Mellon for what we've learned during our journey as students, and we're thrilled to take the show to Fringe this year," Tischler said.  "Our entire design team, management team and all cast members are fellow students, so it's especially meaningful to do this together."
Each show will play several times.  Times, dates and locations are listed below. Tickets are available at www.fringenyc.org or by phone with credit card from 9 a.m. to 7 p.m. daily at 866-468-7619.

Performance details:
"Behind the Badge" (www.ironshirtproductions.com)
FringeNYC Venue 1, The Living Theatre, 21 Clinton St., New York, NY  10002. 
Dates and Times: Aug. 11, 6:15 p.m.; Aug. 12, 7 p.m.; Aug. 15, 8:45 p.m.; Aug. 18, noon; Aug. 19, noon.
 
"Sheherizade" (www.sheherizade.com)
FringeNYC Venue 15, New School for Drama Theatre, 151 Bank Street? (West & Washington Streets), New York, NY 10014.
Dates and Times:  Aug. 15, 3:45 p.m.; Aug. 16, 6:30 p.m.; Aug. 18, 8 p.m.; Aug. 19, 5:15 p.m. 

"Inexperienced Love" (www.ilove-productions.com)
FringeNYC Venue 10, The Players Theatre, 115 MacDougal St., New York, NY 10012.
Dates and Times: Aug. 12, noon; Aug. 15, 5 p.m.; Aug. 16, 7 p.m.; Aug. 18, 7:30 p.m.; Aug. 22, 10 a.m.

###
Pictured above is a scene from "Sheherizade," one of three shows to be performed at FringeNYC in August by Carnegie Mellon School of Drama students. The performance is an adaptation of "1,001 Arabian Nights" and was written and co-directed by students Aidaa Peerzada and Rodney Earl Jackson Jr.