July 02, 2012
News Brief: Koppel Receives "20 Under 20" Thiel Fellowship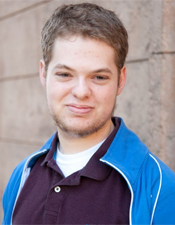 Jimmy Koppel, 20, a senior from St. Louis majoring in computer science and mathematical sciences, is one of 20 young entrepreneurs selected by the Thiel Foundation for its second class of "20 Under 20" Thiel Fellows. During the two-year fellowship, Koppel will receive $100,000 and mentorship from the foundation's network of tech entrepreneurs, investors and scientists.
The Fellowship was established by venture capitalist Peter Thiel to give people under age 20 an alternative to college for pursuing innovative ideas in science and business. Though in some cases that means dropping out of school, he was able to take courses this summer to complete his dual degree, which he expects to receive in December. He has, however, left the mathematics masters program.
Koppel found his passion for software engineering at the end of his freshman year, when he "woke up and realized something was wrong," and resolved to eliminate the tedious aspects of software development. He began focusing his studies on topics related to static analysis and programming languages, and began working with Jonathan Aldrich in the Institute for Software Research. He has since narrowed his focus to automating the work in making architectural changes, which frequently require making small, similar adjustments in thousands of places. A prime example is the Y2K problem, whose fix cost $300 billion.
Koppel has previously worked as a teaching assistant for 15-251 "Great Theoretical Ideas in Computer Science," and was an active member of CMU's programming competition teams. Last month his team tied for 18th at the ACM-ICPC World Finals in Warsaw, Poland.
"We continue to be blown away by the quality of ideas coming from 20 Under 20 applicants," said Jonathan Cain, president of the Thiel Foundation. Applications for the 2012 class came from more than 40 countries and more than 350 high schools, colleges and graduate schools.
"Since becoming Thiel Fellows over the last year, members of our inaugural class have already done some amazing things," said Jim O'Neill, co-founder of the Thiel Fellowship. "They've started and sold companies, closed million-dollar funding rounds, won international entrepreneurship and scientific awards, spearheaded innovative social movements, and begun to transform fields like education, software development, clean energy, electric vehicles, robotics, medical technology, and finance."