July 23, 2012
Press Release: Robotics Institute's Dias Wins Borg Early Career Award
Honor Celebrates Contributions to Computer Science and Role of Women
Contact: Byron Spice / 412-268-9068 / bspice@cs.cmu.edu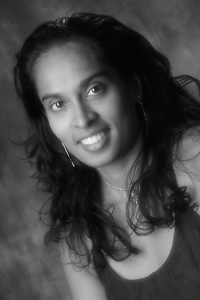 PITTSBURGH—M. Bernardine Dias, associate research professor in Carnegie Mellon University's Robotics Institute and the founder and director of the TechBridgeWorld program, will receive the 2012 Borg Early Career Award from the Computer Research Association's Committee on the Status of Women in Computing Research (CRA-W).
The annual award is given to a woman in computer science and/or engineering who has made significant research contributions and who has contributed to her profession, especially in the outreach to women. Dias and Katie Siek, assistant professor of computer science at the University of Colorado, Boulder, are this year's recipients.
Dias, who earned her master's degree and Ph.D. in robotics at Carnegie Mellon, has until recently split her teaching duties between CMU's Pittsburgh and Doha campuses. She is passionate about mentoring students and works through many avenues to encourage young people, and especially girls and women, to pursue careers in technology.
She is a founding member of Carnegie Mellon's Women@SCS, a campus organization dedicated to creating and supporting women's professional and social opportunities in computing. She is faculty adviser to the graduate Women@SCS.
Her research has focused on making culturally appropriate computing technology accessible to underserved communities. Her TechBridgeWorld research group innovates and field tests computing solutions that address the needs of communities around the world. Its innovations include a low-cost automated Braille Writing Tutor for blind children and computing and mobile phone-based tools for enhancing English literacy education. This summer, student interns in the program worked on water and waste monitoring projects in partnership with Ashesi University College in eastern Ghana.
Dias also is a recognized leader in autonomous team coordination research. Her doctoral dissertation developed the "TraderBots" market-based framework for multi-robot coordination in dynamic environments. She continues to advance the state-of-the-art in autonomous team coordination and planning through the rCommerce research group that she co-created and co-directs. Her research efforts also extend to Carnegie Mellon's Qatar campus through the Qri8 robotics lab, which she co-founded and co-directs.
    
###