July 16, 2012
Press Release: Carnegie Mellon University's David A. Dzombak Named Fellow of Prestigious Water Environment Federation
Dzombak Recognized for Innovative Work With Water Quality Engineering
Contact: Chriss Swaney / 412-268-5776 / swaney@andrew.cmu.edu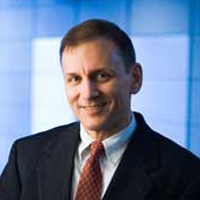 PITTSBURGH—Carnegie Mellon University's David A. Dzombak has been named a fellow of the Water Environment Federation (WEF) for exceptional accomplishments in the field of water quality.
"I'm honored with this recognition from the world's largest group of water quality professionals, with which I have long been associated," said Dzombak, the Walter J. Blenko Sr. Professor of Civil and Environmental Engineering and director of the Steinbrenner Institute for Environmental Education and Research.
Dzombak, who has been a WEF member since 1979, has served as vice chair and chair of the WEF Groundwater Committee, has helped organize several WEF specialty conferences related to groundwater and contaminated site remediation, and served as an associate editor of the WEF journal, Water Environment Research, from 1993 to 1998.
The WEF Fellow Recognition Program, now in its second year, identifies individuals for their outstanding accomplishments and impact in their field of expertise. Founded in 1928, the WEF is a nonprofit technical and education organization of 36,000 individual members and 75 affiliated member associations representing water quality professionals globally. Twenty-three fellows were named in 2012.
"WEF members are world leaders in water quality," said WEF Executive Director Jeff Eger. "We are very proud of the 2012 fellows and appreciate their outstanding commitment to water quality, the environment and public health."
For more than two decades, Dzombak has conducted leading-edge research in the areas of aquatic chemistry, water quality engineering, and environment and energy.
Dzombak has received numerous professional honors and accolades. He was elected to the National Academy of Engineering in 2008 and was named a fellow of the American Society of Civil Engineers in 2002. He was the recipient of the Jack Edward McKee Medal in 2000 and the Harrison Prescott Eddy Medal in 1993 from the Water Environment Federation.
Dzombak earned his Ph.D. in civil and environmental engineering from the Massachusetts Institute of Technology in 1986. He received both his master's and bachelor's degrees in civil engineering from CMU in 1980, and a bachelor's degree in mathematics from Saint Vincent College in Latrobe, Pa.
The 2012 WEF fellows will be honored during WEF's annual technical exhibition and conference Sept. 29-Oct. 1 in New Orleans.  For more information about the WEF awardees, see www.wef.org.
         
###