January 03, 2012
News Brief: Kiron Skinner on the Iowa Caucuses and Why Political Artistry Matters
Contact:
Shilo Rea /
shilo@cmu.edu
/ 412-268-6094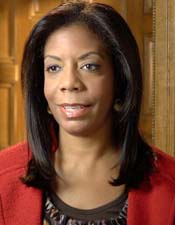 All political eyes are on the Iowa caucuses today, the first major electoral event to nominate U.S. presidential candidates.  
Kiron Skinner, director of CMU's
Center for International Relations and Politics
and
foreign policy advisor to Newt Gingrich and his 2012 presidential campaign
, wrote an opinion piece for
Advancing a Free Society
that explains how even though success in Iowa does not guarantee future wins, candidates and their campaign advisors must pay attention to caucus outcomes.  
In,
"Iowa is Deceptive; Political Artistry Matters,"
Skinner analyzes the results in Iowa since 1972 and writes, "Iowa is not the political harbinger that some pundits suggest, yet it offers a unique glimpse into the role of political artistry in US democracy."
She concludes, "The results of the Iowa caucuses will prompt some candidates to refocus their campaigns and others to build on the momentum they have achieved as they head to New Hampshire.  Iowa losers may prevail in later contests, but their success will depend as much on the artistic lessons they draw from Iowa as anything else."
Read Skinner's entire piece at:
http://www.advancingafreesociety.org/2012/01/03/iowa-is-deceptive-political-artistry-matters/
. 

Image courtesy of Citizens United