January 31, 2012
Media Advisory: CMU To Host World Bank President Robert B. Zoellick
Contact: Shilo Rea / 412-268-6094 / shilo@cmu.edu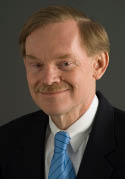 Event: Established in 1944, the goal of the World Bank is to reduce poverty in developing countries by promoting foreign investment and international trade and facilitating capital investments. The current president of the bank, Robert B. Zoellick, will speak at Carnegie Mellon University about the global economic issues he and the bank are presently facing.

"Mr. Zoellick brings a truly global perspective to issues related to the intersection of politics, culture, markets and technology," said Kiron Skinner, associate professor of social and decision sciences and director of CMU's Center for International Relations and Politics (CIRP). "We are honored that he will engage the Carnegie Mellon community in an intellectual conversation on some of the important issues facing the international system."

Zoellick, the 11th president of the World Bank, was previously vice chairman-International of the Goldman Sachs Group. He served in President George W. Bush's cabinet as the 13th U.S. trade representative from 2001 to 2005 and as deputy secretary of state from 2005 to 2006. From 1985 to 1993, Zoellick served in the departments of Treasury and Sate and briefly in the White House. He received his law degree from Harvard Law School and a Master in Public Policy from the Kennedy School of Government.

"A Conversation on Global Economic Issues with Robert B. Zoellick, President of the World Bank" is free and open to the public. The event will be moderated by Professor Skinner and is being sponsored by CMU's CIRP, the Thomas M. Kerr, Jr. Prelaw Program and the Global Studies Major.
When: 4:30 - 6 p.m., Thursday, Feb. 9
 
Where: Kresge Theater, Carnegie Mellon College of Fine Arts

###
Pictured above is Robert B. Zoellick, president of the World Bank.