January 25, 2012
Press Release: Carnegie Mellon University's Nadine Aubry Elected Fellow Of American Institute of Aeronautics and Astronautics
Contact:
Chriss Swaney / 412-268-5776 /
Swaney@andrew.cmu.edu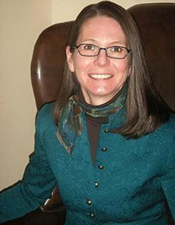 PITTSBURGH—Carnegie Mellon University's Nadine Aubry has been awarded the distinction of fellow of the American Institute for Aeronautics and Astronautics (AIAA) for her outstanding work in the field of aerospace through her pioneering contributions to fluid dynamics.
"I am deeply honored by this election, and extremely grateful to my peers for their recognition," said Aubry, the Raymond J. Lane Distinguished Professor and head of Carnegie Mellon's Mechanical Engineering Department. "At a time when aviation has become an inherent part of our life and our economy, it is crucial to continue making technological advances whether those address reduced fuel consumption or sustainable fuel alternatives."
This year, Aubry joins the ranks of 28 selected among more than 36,000 AIAA members worldwide who will be inducted as AIAA fellows at the AIAA Aerospace Spotlight Awards Gala on May 9, at the Ronald Reagan Building and International Trade Center in Washington, D.C.
"Being named a fellow of AIAA is among the highest honors that can be bestowed upon an aerospace professional, and represents recognition from colleagues and peers for great contributions to our field and technical community," said AIAA President Brian D. Dailey.  
"Nadine is undoubtedly a leader in her field and a wonderful role model.  This latest honor is an indication of how widely recognized she is," said Pradeep K. Khosla, the Dowd University Professor and dean of Carnegie Mellon's top-ranked College of Engineering.
In addition to her work on turbulence and transitional flows with applications for improved and more efficient flights, Aubry proposed judicious microfluidic solutions which, because of their reduced weight, size and energy consumption, are appealing to the field of aerospace.
Aubry is a fellow of the American Association for the Advancement of Science, the American Physical Society and the American Society of Mechanical Engineers. She also is a member of the National Academy of Engineering. A leader in her field, she currently serves as vice chair (to become chair elect and chair) of the American Physical Society Division of Fluid Dynamics and a past chair of the U.S. National Committee on Theoretical and Applied Mechanics, the National Research Council committee that represents the U.S. internationally in scientific matters related to the field of mechanics.
Aubry earned a bachelor's degree in 1984 from the National Polytechnic Institute of Grenoble, France, and a master's degree from the Scientific and Medical University, also in Grenoble. In 1987, she received her Ph.D. from Cornell University.
###