January 24, 2012
Press Release: CMU Drama Students Explore Theatrical Boundaries in "Playground: Festival of Independent Student Work"
Students Produce and Present More Than 60 Original Works in Three Days
Contacts: Dennis Schebetta / 412-268-2068 / dschebet@andrew.cmu.edu   
Teresa Thomas / 412-268-2900 / thomas@cmu.edu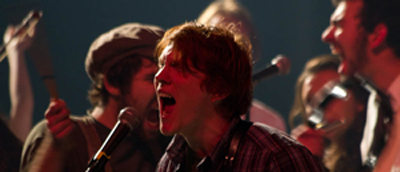 PITTSBURGH—Carnegie Mellon University's School of Drama will present its ninth annual "Playground: A Festival of Independent Student Work" in and around the Purnell Center for the Arts Thursday through Saturday, Feb. 2-4.
The festival opens at 6 p.m., Feb. 2 with musical performances, new plays, lighting and art installations, murals, multimedia projects and other dramatic presentations in the Purnell Center lobby.
"Playground has become like a micro-fringe. It's a valuable way for students to work together across disciplines and build professional relationships with fellow classmates. We cancel all School of Drama classes [during Playground] and the students voluntarily submit proposals that they then independently produce, rehearse and perform," said Catherine Moore, associate teaching professor of drama.
"Playground" has become a steppingstone for future star performers and award-winning international theater companies. Actors that have previously participated in "Playground" while students include Patina Miller (Broadway's "Sister Act"), Josh Gad (Daily Show, Broadway's "The Book of Mormon") and Amanda Jane Cooper (National tour of "Wicked").
The New York-based "PigPen Theatre Company" first joined together in a "Playground" performance in 2007. The company recently received critical acclaim in the New York International Fringe Festival as winner of "Best of the Fringe" for the second year in a row, and their production was recently named to The Huffington Post's Top Five Memorable Performances of 2011 in New York.
Many theater performances will be a workshop and proving ground for later productions. Last summer, for example, the student-comprised "In the Basement Theatre Company" took their "Playground" festival show "Chien de Moi" to the New York Fringe Festival and will be working on another performance this year with plans for further professional appearances.
As "Playground" heads into its ninth year, the festival continues to expand, connecting with the surrounding community outside of the university. Bachelor of Fine Arts student Mary Margaret-Kunze is collaborating on a new musical titled "Off With Her Maidenhead," written by CMU Drama alumna and local theatre artist Amy Claussen, assistant to the artistic director at the City Theatre. Also scheduled is "A Night of Gender Performance," which will feature many members of the Pittsburgh drag community.
"The interaction of students from differing disciplines participating in the creation of a work by taking a differing role to their major, extends the imaginative horizons of the community and increases the energy of the school," said Peter Cooke, head of the School of Drama.
Tickets for all performances are free but must be reserved in advance through the School of Drama Box Office at 412-268-2407. For more information on performances, events and installations, visit the School of Drama Playground website at www.drama.cmu.edu/156/playground.

###
Pictured above is the PigPen Theatre Company during a "Playground" performance.