January 16, 2012
Press Release: CMU's School of Drama Takes a Sharp Cut at "Sweeney Todd: The Demon Barber of Fleet Street," Feb. 23 - March 3
Guest Artist Joe Calarco Will Direct Stephen Sondheim's Tony-Award Winning Musical
Contacts: Dennis Schebetta / 412-268-2068 / dschebet@andrew.cmu.edu   
Teresa Thomas / 412-268-2900 / thomas@cmu.edu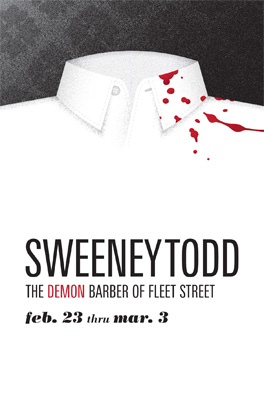 PITTSBURGH—Carnegie Mellon University's School of Drama will present "Sweeney Todd: The Demon Barber of Fleet Street," with music and lyrics by Stephen Sondheim and libretto by Hugh Wheeler, Feb. 23 - March 3 in CMU's Purnell Center for the Arts' Philip Chosky Theater.
The production will be directed by guest artist Joe Calarco, an award-winning writer and director of "Shakespeare's R&J," which won the Lucille Lortel Award and ran for a year off-Broadway, the longest-running production of any version of "Romeo & Juliet" in New York City.
Winner of the Tony Award in 1979, "Sweeney Todd" is considered one of Sondheim's masterpieces and has enjoyed recent revivals and a film by Tim Burton starring Johnny Depp. This hauntingly chilling story explores love, loss and blood-soaked revenge. Returning to London after 15 years of prison, Sweeney seeks vengeance by systematically slicing people's throats with a razor, while Mrs. Lovett disposes of the bodies by baking them into meat pies.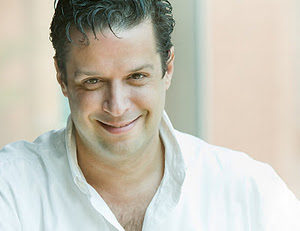 "When we do something well known like 'Sweeney Todd,' I like to approach the work from a completely fresh point of view," said Peter Cooke, head of the School of Drama. "Bringing in eminent guest director Joe Calarco will ensure that any pre-conceived expectations will go out the window. This show will be intense and intimate, like a séance, starting in a small Victorian setting and out of that will grow this marvelous musical."
Pittsburgh audiences may have already seen two prior versions of the musical, first from the Bach Choir and then from the University of Pittsburgh Repertory Theatre production in November.
"I love that there are many productions so students see various ways of interpreting these plays," Cooke said.
Ticket prices begin at $15 for adults and $10 for students. For show times, complete ticket prices and ticket orders, call the School of Drama box office at 412-268-2407 or visit www.drama.cmu.edu.

###
Pictured above is Joe Calarco. Photo by Chris Mueller.