January 16, 2012
News Brief: Mark Stehlik Named Associate Dean at Carnegie Mellon Qatar
Tom Cortina Will Assume Duties as SCS Assistant Dean for Undergrads This Summer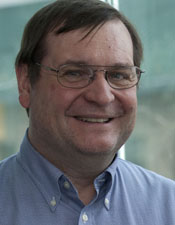 After shepherding more than 2,500 students through Carnegie Mellon's undergraduate computer science program, Mark Stehlik will step down this summer as assistant dean for undergraduate education for the School of Computer Science. He then will begin a five-year appointment as associate dean for education at Carnegie Mellon Qatar.
Stehlik, who began teaching undergraduate classes in 1982, has been assistant dean since the undergraduate computer science degree program began in 1988. Tom Cortina, associate teaching professor, will assume the duties of SCS assistant dean and will work with Stehlik this semester to begin the transition.
"Mark has been the heart and soul of our CS undergraduate program for the past two decades," said SCS Dean Randal E. Bryant. "Through his work with both students and faculty, he has been instrumental in our program's rise to the highest heights in its academic quality and its individualized attention.
"We will surely miss him here in Pittsburgh, but I am glad he will be able to work his magic with our students and faculty in Qatar," Bryant added. "I also have full confidence that Tom will keep our program on track here in Pittsburgh."  
"This program is like one of my children," said Stehlik, anticipating what could be a painful transition for him. "When you commit to as much as people commit to around here, it's really, really difficult to step away," he added. "It's going to be hard to talk with students I know I won't be around to see graduate."
But he emphasized that he is excited about contributing to the further success of Carnegie Mellon's campus in Doha, Qatar, where he has been a frequent visitor and teacher.
"Mark brings a strong balance of academic and leadership experience to Qatar," said Ilker Baybars, dean of Carnegie Mellon Qatar.  "He has been at Carnegie Mellon for 30 years, and his impact in the development of the undergraduate program in computer science is invaluable.  I am confident that the students in Qatar will flourish and benefit from his experience and guidance.  We are pleased to have someone with Mark's knowledge and enthusiasm join our leadership team."
Stehlik anticipates that the process of handing over the day-to-day operation of the SCS program to Cortina ultimately will strengthen the undergraduate program.
"I'm proud of the way that we have been able to connect undergrads to each other and to the school," Stehlik said. "I'm eager to see that continue at the Pittsburgh campus and to increase those connections in Doha. That said, this transition will allow for changes to happen here that are potentially good and useful."
"Mark leaves big shoes to fill," Cortina said. He recalled that when he was offered the position of assistant dean, "I was flattered and stunned at the same time."
Before joining the CMU faculty in 2004, Cortina taught for a combined 16 years at Polytechnic University in Brooklyn, NY, and at Stony Brook University.  He has been active in the Association for Computing Machinery's Special Interest Group in Computer Science Education (SIGSCE), serving as program co-chair for the SIGSCE Symposium in 2010 and symposium co-chair in 2011. He serves on the advisory board of a joint National Science Foundation-College Board project to develop a new Advanced Placement (AP) Computer Science Principles course. He helped launch the popular CS4HS workshop for computer science high school teachers and the ACTIVATE workshops for science, technology engineering and math teachers in the Pittsburgh region.
Stehlik taught at the Doha campus during the spring semesters of 2006, 2007 and 2008. Upon returning to Pittsburgh in 2008, he suffered a pulmonary embolism. The episode caused both Stehlik and the school to contemplate life without him as assistant dean and think about what might need to happen to provide stability to the undergraduate program once he eventually left his position.
Another stint in Doha last summer reminded him of the joys of teaching smaller classes than are typical at the Pittsburgh campus. And he became convinced that he could play a role in Baybars' administration and contribute to the evolution of Education City.
One contribution has to do with the more than 1,000 computer science books that he has accumulated over 30 years and now strain the bookshelves of his Gates Center office. He plans to donate most of them to the Carnegie Mellon Qatar library. "They represent a history of computer science," he explained. "And this way, I only have to pack them once."
Cortina said he already is acquainted with many of the sophomores that Stehlik advises, having taught them as freshmen last year in the Imperative Computation class with Frank Pfenning. He'll be shadowing Stehlik this semester as he takes on more operational duties.
Even after he moves to Qatar this summer, Stehlik said he will always be available and happy to answer questions.
"I bleed plaid."
###
Pictured above is Mark Stehlik.