January 16, 2012
News Brief: Noah Smith Receives Finmeccanica Chair
By Byron Spice bspice(through)andrew.cmu.edu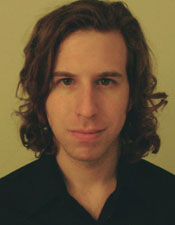 Noah Smith, associate professor in the
Language Technologies Institute
, has been awarded a three-year Finmeccanica Career Development Chair.
Smith joined the faculty in 2006. His research interests include statistical natural language processing, especially unsupervised methods, machine learning for structured data, and applications of natural language processing. He earned his Ph.D. in computer science at Johns Hopkins University in 2006 and bachelor's degrees in computer science and linguistics at the University of Maryland in 2001.
An endowment by the Italian conglomerate Finmeccanica supports two chairs that support outstanding young faculty members in the School of Computer Science. The other chair currently is filled by Alexei Efros, associate professor of computer science and robotics.