January 11, 2012
Press Release: Carnegie Mellon Alum Charles Geschke Endows Directorship of Human-Computer Interaction Institute
Software Industry Pioneer Co-founded Adobe Systems
Contact:  Byron Spice / 412-268-9068 / bspice@cs.cmu.edu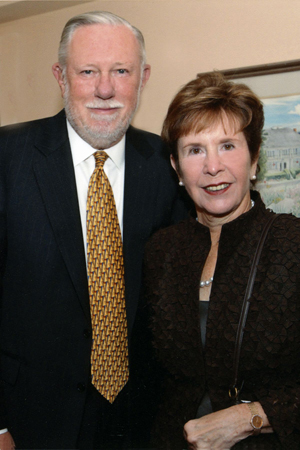 PITTSBURGH—Charles M. Geschke, co-founder of Adobe Systems Inc., and his wife, Nancy, have endowed the directorship of the Human-Computer Interaction Institute (HCII) in Carnegie Mellon University's School of Computer Science (SCS). Mr. Geschke earned his Ph.D. in computer science at Carnegie Mellon in 1973.
The HCII, established in 1994, is a department dedicated to research and education in topics related to computer technology in support of human activity and society. Under the terms of the new endowment, current director Justine Cassell and each succeeding director will receive automatic appointments as the Charles M. Geschke Director of the Human-Computer Interaction Institute.
"This title is particularly meaningful to me because Chuck Geschke is a pioneering technology leader who thinks deeply about, and believes in, the power of technology to improve lives," Cassell said. "His professional contributions have transformed information sharing and his personal philanthropy has opened up the world of education to young people who might not otherwise have had access. It is an honor to have the Geschke name permanently affiliated with the HCII."
Geschke co-founded Adobe Systems in 1982 with John Warnock, creating software that helped launch the desktop publishing revolution and establishing a company that remains a leader in software and technologies for communications and collaboration. He retired as president in 2000, but he and Warnock continue to share chairmanship of the Adobe board.
An influential leader in the software industry for more than 35 years, Geschke is the recipient of many honors, including the 2010 Marconi Prize, the equivalent of the Nobel Prize for the field of information technology. In 2008, he was elected to the American Academy of Arts and Sciences and in 2009 President Barack Obama awarded him the National Medal of Technology and Innovation.
"Chuck Geschke has been a model alumnus," said Randal E. Bryant, SCS dean. "His early work on desktop publishing made it possible for everyone to produce documents with visual quality that previously required printing professionals. His company's image manipulation program became a verb: 'to Photoshop.' His company has also been a model to the entire world of quality, innovation and integrity. Through all of this, he has kept in close contact over the years, providing us with valuable advice and encouragement."
"One of the most important ingredients for success in my life has been the quality of the education I received at Carnegie Mellon; the network of people I developed there was critically important to me," Geschke said. "I admire what Carnegie Mellon does and am pleased to support the Human-Computer Interaction Institute. The way people relate to technology has a great impact on their lives, so it seems to me that research in human-computer interaction is a natural place where CMU can innovate."
The HCII explores such topics as technology design and usability, educational technologies, and research on how people work, play and communicate. Though part of the School of Computer Science, HCII also hires faculty and trains students in the areas of design, cognitive science, social psychology and other areas across the disciplines, which accounts for the HCII's world-class reputation for interdisciplinarity.
Carnegie Mellon faculty have been leaders in human-computer interaction since the late 1960s and continue to be among the most influential researchers in the field. HCII's Ph.D. program in human-computer interaction was the world's first.
     
###
Pictured above are Charles and Nancy Geschke.