January 10, 2012
Press Release: Carnegie Mellon University's Chris Hendrickson Appointed To Serve On Prestigious National Transportation Research Board Executive Committee
Contact:
Chriss Swaney / 412-268-5776 /
Swaney@andrew.cmu.edu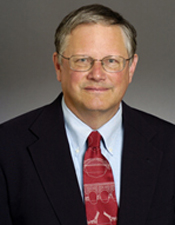 PITTSBURGH—Carnegie Mellon University's Chris T. Hendrickson has been appointed to the executive committee of the Transportation Research Board (TRB), which provides expert advice on national transportation policy and leadership in transportation innovation.
"This is an opportunity for me to serve as the nation continues to face serious challenges to its aging infrastructure," said Hendrickson, the Duquesne Light Company Professor of Engineering and co-director of the Green Design Institute at Carnegie Mellon. "Improved roads and bridges help boost economic viability and the TRB plays a big part in helping implement new research, technology and innovative policies to encourage needed change."
The TRB is one of six major divisions of the National Research Council (NRC), a non-profit institution that is the principal operating agency of the National Academies in providing services to the government, the public, and the scientific and engineering communities. The NRC is jointly administered by National Academy of Sciences (NAS), the National Academy of Engineering and the Institute of Medicine.
Hendrickson, whose three-year term begins Jan. 26, is a member of the National Academy of Engineering, a distinguished member of the American Society of Civil Engineering, and an emeritus member of the TRB standing committee on the application of Emerging Technologies to Design and Construction, as well as a fellow for the American Association for the Advancement of Science.
His research, teaching and consulting are in the general areas of engineering planning and management, including design for the environment, project management, transportation systems, finance and computer applications. Some of his latest research endeavors involve life-cycle assessment methods, assessment of alternative construction materials, economic and environmental implications of e-commerce and infrastructure for alternative fuels. He has co-authored several textbooks, including Environmental Life-Cycle Assessment of Goods and Services, An Input-Output Approach (Resources for the Future, 2005), as well as two monographs.
TRB's many activities engage more than 7,000 engineers, scientists and other transportation researchers and practitioners from the public and private sectors and academia.
Hendrickson will be joined by three other recently appointed TRB executive committee members including: Gary P. LaGrange, president and chief operating officer of the Port of New Orleans; Adib K. Kanafani, professor of the Graduate School of Civil Engineering at the University of California, Berkeley and Henry G. Schwartz, Jr., retired chairman of Jacobs/Sverdrup Civil Inc. of St. Louis, Mo. 
###
Pictured above is Chris T. Hendrickson, the Duquesne Light Professor of Civil and Environmental Engineering.