February 07, 2012
Hear Me Project Connects USA Network with Clairton School
By Byron Spice bspice(through)andrew.cmu.edu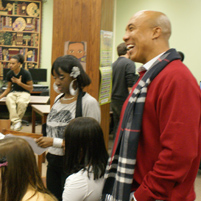 Students at Clairton High School who are working with Carnegie Mellon University's
Hear Me
project interact with the Pittsburgh Steelers' Hines Ward in "NFL Characters Unite," a documentary that premieres at 7 p.m. Friday on the USA Network.
Part of USA's
public service campaign
to combat prejudice and discrimination, the documentary features Ward and other NFL stars, who share how they overcame extreme hate and bigotry in their lives as each helps to transform the life of a teen facing a similar situation. Hear Me, a project of the Robotics Institute's CREATE Lab, connected USA Network producers with the Clairton school in advance of the filming.
Hear Me is part of a year-long video advocacy program, called Hear Me 101, that involves 60 students in Clairton and three other school districts. It encourages students to focus on elements of change they wish to see in their communities or schools. In the process, they learn to produce digital documentaries about a social issue of personal importance.
In its Clairton segment, the USA Network documentary focuses on Carlton Dennis, a junior from Trinidad who faced racism and bullying, similar to that faced by Ward. The two talk about ways to overcome challenges and stay positive. A rap song about Clairton, written by Ward and the students during the filming of the documentary, is available for purchase on
iTunes
.
With support from the Heinz Endowments, Hear Me 101 was launched in cooperation with the Consortium for Public Education, Pittsburgh Center for the Arts/Pittsburgh Filmmakers, and the Western Pennsylvania Writing Project.