February 07, 2012
Media Advisory: Bettye Collier-Thomas, Acclaimed African-American Women's History Expert, To Speak at Carnegie Mellon
Contact: Shilo Rea / 412-268-6094 / shilo@cmu.edu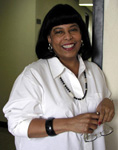 Event: To mark Black History Month, Carnegie Mellon University's Center for Africanamerican Urban Studies and the Economy (CAUSE) will host award-winning author and acclaimed African-American women's history expert Bettye Collier-Thomas to discuss "The Nexus: Women, Religion, Race and Civil Rights, 1920-1965."
Derived from the research for her book "Jesus, Jobs and Justice: African American Women and Religion," Collier-Thomas' talk will explore the ways in which black and white ecumenical Protestant women grappled with issues of race and ethnicity in the early 20th century and how doing so contributed to laying the groundwork for the modern civil rights movement.
A professor of history at Temple University, Collier-Thomas is a distinguished lecturer for the Organization of American Historians and a public policy scholar at the Woodrow Wilson Center. Her other books include "Daughters of Thunder: Black Women Preachers and Their Sermons, 1850-1979" and "Sisters in the Struggle: African American Women in the Civil Rights-Black Power Movement." She also founded and served as the first executive director of the Bethune Museum and Archives in Washington, D.C., the nation's first museum and archives for African-American women's history.
CAUSE is part of the Department of History within Carnegie Mellon's Dietrich College of Humanities and Social Sciences. It develops programs of graduate and postdoctoral training, scholarly research, data collection, publications and education. For more information, visit http://www.hss.cmu.edu/cause/.
When: Friday, Feb. 10; 4:30 p.m., refreshments; 5 p.m., lecture and discussion
 
Where: Steinberg Auditorium, Baker Hall A53, Carnegie Mellon University
###